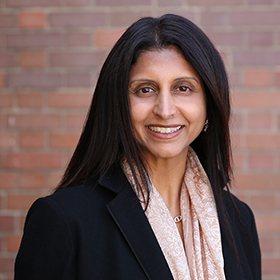 Sonali Patel
Partner, New York
---
Sonali is a partner in The Bridgespan Group's New York office, where she co-leads both the environmental area of expertise and global sourcing and diligence. She joined Bridgespan in 2014 and has since led multiple engagements both in the US and globally. Her primary areas of focus are global development (with an emphasis on issues of equity) and climate change, where she is a sought-after advisor. She has worked with individual philanthropists, family philanthropies, institutional philanthropy, large INGOs, and equity-focused NGOs.
Her career has spanned two decades both in for-profit and nonprofit consulting. Her nonprofit experience includes working extensively in strategy, organizational design (including governance structures), sourcing and diligence, as well as development of organizational missions, visions, and values. Prior to joining the Bridgespan Group, Sonali was at Bain & Company for more than a decade, working primarily in the healthcare practice while covering a wide range of issues, including growth strategy, organizational and process redesign, and performance improvement.
Sonali's climate portfolio includes projects with philanthropists, large INGOs, and re-grantors, including work with an individual philanthropist to support his climate investments. That effort included grants and impact investments as well as supporting the planning, design, and sourcing of initial investments as he established a new nonprofit called Carbon to Sea Initiative. She also has worked with INGOs such as National Geographic Society, where she supported the board and CEO through a first joint venture with 21st Century Fox in 2015 and second joint venture with The Walt Disney Company in 2019. She has also worked with the re-grantor Climate Works to support their global entry strategy and optimization of their funding model. Finally, she has worked with equity-focused environmental justice nonprofits such as WE ACT on growth strategy, collaborating with Peggy Shepherd, a US leader in the environmental justice movement.
Sonali's global philanthropy advisory experience includes engagements with institutions such as The Rockefeller Foundation, with which she worked on a global scan across Africa, South Asia, Southeast Asia, and the US for their next big bet. She also works with family philanthropies, including the Tata Trusts on malnutrition in India and the largest family foundation in the United States, working directly with family members to develop a strategy and engagement model to incorporate the views and interests of the family's second and third generations. She has also worked with a donor to help disburse significant capital in unrestricted, global equity-focused grants over the past three years.
Sonali has co-authored a publication in Stanford Social Innovation Review, "Giving Back to India," based on research she conducted on diaspora giving. She also authored a series of memos in April of 2020 on "Opportunities for Philanthropic Response to Cornavirus (COVID-19) Crisis," which researched global and US opportunities for giving early in the crisis, and "Racial Equity Implications of the COVID-19 Pandemic," which outlined racial equity-centered opportunities for philanthropy. She also contributes to climate knowledge, most recently through the article "Winning on Climate Change: How Philanthropy Can Spur Major Progress Over the Next Decade" and an interview in a podcast episode titled, "The New Era of Climate Giving: Insights from Sonali Patel of The Bridgespan Group" (The Business of Giving, 2023). She has also made contributions to an article in Inside Philanthropy titled, "If You Care About Climate Change, Fund Feminist Movements" as well as through an interview in Mongabay, "Climate philanthropy's opportunity for impact: Q&A with Bridgespan's Sonali Patel."
Sonali graduated from Duke University with a BS in psychology and received her MBA from The Wharton School. She currently lives in Rye with her husband and their three children.