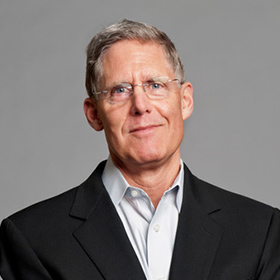 Thomas J. Tierney
Co-founder and Co-chair, The Bridgespan Group
---
Tom Tierney's personal mission is to serve exceptional individuals and organizations to help them achieve breakthrough social impact. His professional experience spans a wide range: CEO, social entrepreneur, author, teacher, philanthropic advisor, and consultant. Over the past few decades, Tom's work has generally focused in the areas of philanthropy and leadership, with a naturally strategic and intensely pragmatic orientation. He remains a creative, curious and avid learner.
Tom joined Bain & Company in 1980 and became a partner three years later. From 1987 to 1992, he served as the managing director of Bain's San Francisco office. In 1992, as the firm completed a management buyout, Tom became Bain's president, reporting directly to acting CEO Mitt Romney. In 1993, Tom assumed full leadership responsibilities as Bain's first worldwide managing director. Under his leadership, Bain grew its revenues six-fold while significantly expanding its global operations.
In 2000, Tom left his position as Bain's CEO to co-found The Bridgespan Group, an independent nonprofit focused on helping philanthropists and nonprofit leaders achieve breakthrough results while simultaneously generating practical knowledge to be shared freely across the social sector. Over two decades, Tom's leadership has nurtured Bridgespan's growth, innovation, and impact. As a full-time volunteer, he focuses his energy on initiatives that enhance the flow and effectiveness of philanthropic capital, while personally supporting a select number of exceptional donors.
Tom has co-authored two books, Aligning the Stars, published in April 2002 by Harvard Business School Press and Give Smart: Philanthropy That Gets Results, published in March 2011 by Public Affairs. He has written numerous articles, delivered countless speeches and been privileged to lecture at many fine universities, including Harvard and Stanford. Tom led the production of Conversations with Remarkable Givers, an unprecedented collection of insightful videos, drawn from dozens of interviews with philanthropists and foundation leaders.
Tom was born in San Francisco, California. He received his BA in Economics with highest distinction from the University of California at Davis, where he worked his way through school. Upon graduation, he worked as bus driver before landing a job as a field engineer for Bechtel in North Africa. He subsequently earned an MBA with distinction from the Harvard Business School. Tom was the fifth person to hold the class of 1951 Chair for the Study of Leadership at West Point; honorably following Jim Collins and "Coach K" (Mike Krzyzewski) in service of this outstanding institution. In 2016, he was the recipient of Harvard Business School's esteemed Alumni Achievement Award.
Tom has served on the boards of many extraordinary organizations. In recent years, he has been honored to serve as chair of The Nature Conservancy, eBay, and Stanford's Hoover Institution.
Tom is the proud father of two sons, Colin and Braden, and considers his wife of 37 years, Karen, his best friend and closest advisor.