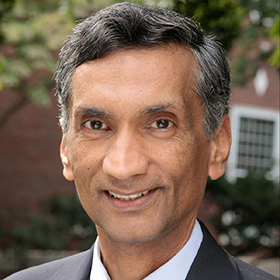 V. Kasturi Rangan
Professor of Marketing, Harvard Business School
---
V. Kasturi (Kash) Rangan is the Malcolm P. McNair Professor of Marketing at the Harvard Business School. Formerly the chairman of the Marketing Department (1998-2002), he is now the co-chairman of the school's Social Enterprise Initiative. Kash has taught in a wide variety of MBA courses, including First-Year Marketing, Business Marketing, Channels-to-Market, the Advanced Management Program for senior managers, and, currently, Business at the Base of the Pyramid. In addition, he teaches in a number of focused executive education programs: Strategic Perspectives on Nonprofit Management, and Corporate Social Responsibility.
Kash's marketing and social enterprise research has appeared in management journals such as Journal of Marketing, Harvard Business Review, California Management Review, Stanford Social Innovation Review and others. He has authored or co-authored several books, including Transforming Your Go-to-Market Strategy and Business Marketing Strategy. He is the editor of the book, Business Solutions for the Global Poor.
Kash served as one of the founding co-chairs of Harvard's Social Enterprise Initiative, and also founded its executive program, Strategic Perspectives on Nonprofit Management, in which he continues to teach. He is currently researching social enterprise models that gain impact and scale. Complementing that stream of research, Kash and his colleagues are studying effective ways for measuring and managing social impact.
Kash has a bachelor of technology; an MBA; and a PhD in marketing from Northwestern University (Evanston, Illinois). He has engaged in a variety of executive education programs, consultancies, and advisory activities for numerous commercial and nonprofit enterprises, and has been on the faculty of the Harvard Business School since 1983.