This case study is part of a series that accompanies The Bridgespan Group article "Audacious Philanthropy: Lessons from 15 World-Changing Initiatives" (Harvard Business Review, Sept/Oct 2017). See below for 15 stories of social movements that defied the odds and learn how philanthropy played a role in achieving their life-changing results.
Private philanthropists have helped propel some of the most important social-impact success stories of the 20th century, ranging from virtually eradicating polio globally to providing free and reduced-price lunches for all needy schoolchildren in the United States. Such solutions have transformed or saved hundreds of millions of lives.
Today, many philanthropists aspire to similarly audacious results. They don't want to fund homeless shelters and food pantries; they want to end homelessness and hunger. But many of these eager donors privately express great frustration. Despite having written big checks for years, they aren't seeing large-scale results.
Why, they ask, have some efforts defied the odds, and what can they learn from them? To answer that question, we dove deeply into a diverse set of 15 breakthrough social change initiatives from around the world, ranging from marriage equality in the United States to the global eradication of polio.
Our research enabled us to identify five actions that together constitute a framework for philanthropists pursuing large-scale change—actions that generally sit outside prevailing trends in philanthropy today. Although all five played a part in every initiative we studied, philanthropists did not themselves need to fund each one. Rather, they identified gaps left by others and directed their resources accordingly. History tells us that leaders of successful large-scale change efforts:
Build a shared understanding of the problem and its ecosystem.
Set "winnable milestones" and hone an emotionally-compelling message.
Design approaches that will work at massive scale.
Drive (rather than assume) demand.
Embrace course correction.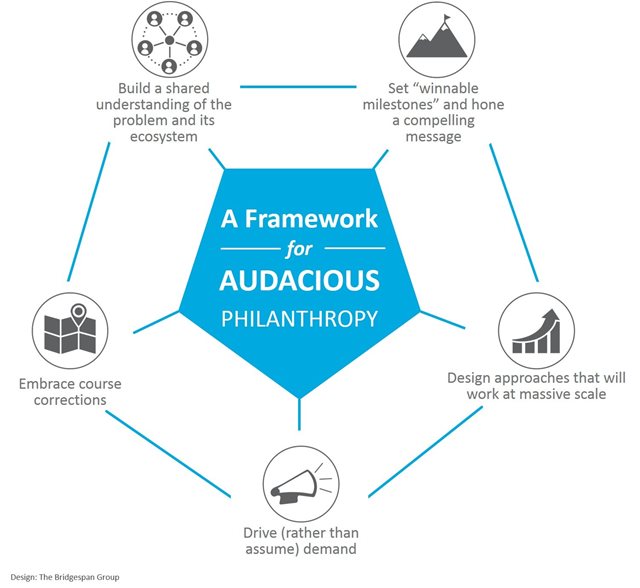 Our research also revealed a striking characteristic of successful social initiatives: They take a long time—nearly 90 percent of the efforts took more than 20 years.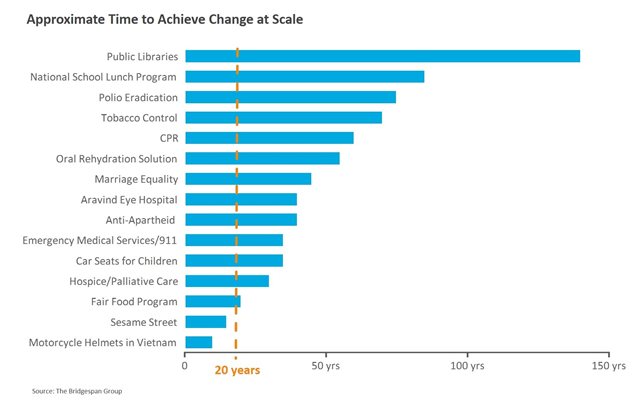 Although the commonalities across these success stories of audacious social change are striking, our data set is not large enough to establish a causal connection. Furthermore, this framework is not a simple recipe for social change. Real change is slow and complex, and many factors including luck and good timing play a role. Still, we believe that when skillfully applied over the arc of a social campaign, the five actions we identified can help ambitious philanthropists increase their odds of success.
Bridgespan would like to recognize the significant contributions of Carole Matthews, Gail Perreault, Katie Smith Milway, and Roger Thompson to the article and the case studies related to this work.