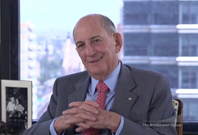 Over the years, Charles Bronfman has held many leadership roles, inlcuding that of Co-Chairman of Seagram prior to 2000 and principal owner of Canada's first Major League Baseball team, the Montreal Expos, from 1968 to 1990. And like many philanthropists, Bronfman has drawn on his leadership experience to create success in his philanthropy, for example, partnering with others to grow an idea. It's an approach that has served him well.

Take Taglit-Birthright Israel, the organization he co-founded. "Every young Jew has the right to go to Israel," Bronfman once said prior to its creation. In keeping with that statement, through Taglit-Birthright Israel, he has worked to strengthen Jewish beliefs and culture by creating opportunities for young people to visit the birthplace of Judaism.


See the complete archive of Charles Bronfman videos.

Bronfman's initial foray into strengthening Jewish young adults' cultural identity got an exponential boost when he met Michael Steinhardt while on a visit to Israel. After the two spent time deliberating about how and if they could create a program that could truly be successful, they committed to its creation, despite not seeming to have the money to do so. "The truth of the matter was, neither of us had looked at the budget," says Bronfman. "So we both opened this page, and he looks at me—he went ashen—and he said, 'Charles, there's nobody I'd rather go broke with than you.' And I said, 'Michael, there's nobody I'd rather go broke with than you.'" And with that, the program moved forward, Bronfman recounts, with the two financing the first round of trips.

No doubt, thousands of young people are glad of that decision. Thanks to Bronfman's and Steinhardt's chutzpah and partnership, Taglit-Birthright Israel was created, enabling thousands of Jewish young people to experience the birthplace of their religion and culture.