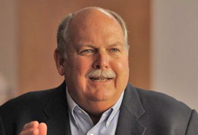 For David Weekley, philanthropy has been key to unlocking a meaningful life. The founder of David Weekley Homes learned the importance of giving back as a young boy by watching his father put money into the church collection plate each week. Weekley returned to that foundation of giving in the 1990s when he decided to commit 50% of his annual income and time to his philanthropy. "While I love business and love the action, I realized that I was no longer motivated by the money alone," he says. Instead, Weekley knew that he'd been "incredibly blessed" and felt compelled to share his time and money to benefit philanthropic causes.
Giving 50% of his time has been especially crucial to Weekley's philanthropy. It allows him to share his business expertise with the wide array of nonprofits he helps to build up, primarily through the way in which he conducts due diligence on organizations seeking his help and through his skills in helping them to measure their success.
Using due diligence to share building tools
Weekley says he likes to see three particular traits in a nonprofit—the desire to scale, effectiveness at delivering a positive impact, and the capability to develop a sustainable funding model. Yet, his due diligence goes far deeper than a broad look at these three traits, which enables him to determine how best to help an organization. For example, when he receives a grant request, he'll research pertinent information about the nonprofit, including financial details, strategic plans, and board member lists. "I can review [the background information] in half an hour and when they come in and we spend half an hour, an hour together, I can pretty quickly understand what their needs are and get down to how I might be able to help them." Through his due diligence, Weekley often finds that the help he can provide is greater than what the nonprofit has asked for. "Oftentimes, they come in and they really just want a grant for $25,000 or $100,000 to do their annual operating expenses or a capital campaign grant," he says. Yet, through his research he finds, for example, that the nonprofit lacks fundraising skills or a long-range strategic plan. "So that's where I really dig in and see if there's some way that, with the capacity-building group I have under contract in Houston, whether I can help them as well as write them a check."
Getting concrete with metrics
Another important way Weekley finds that he can help a nonprofit is by sharing his measurement expertise. According to the company's website, David Weekley Homes is the third-largest, privately owned homebuilder in America. It's an achievement due in part to Weekley's focus on measurement and results. Not surprisingly, when Weekley made a major shift to philanthropy, he brought that mindset with him. "One of the reasons why I really focus on measurements and metrics is because it's the only way for us to get real hard data on what's working [and] what's not working," he says. Of course, Weekley recognizes that philanthropic measurement is not easy. "The problem and challenge with delivering results for a nonprofit has everything to do with the fact that the metrics and measurements are much harder for a nonprofit," says Weekley. For the dynamic, results-oriented businessman, this challenge is an opportunity. "The best impacts I've had with nonprofits have been with helping them discover how to measure and ways that they can develop appropriate metrics," he says. Just as important, he points out, is how to effectively evolve metrics over time and how they can be used as performance drivers.
See a complete archive of David Weekley' videos.
Take Weekley's involvement with the Boy Scouts of America, which represents one of the philanthropist's most important focus areas: to develop character in youth. Weekley, who is Chairman of the Sam Houston Area Council of Boy Scouts of America, says that as he became more involved with the organization he was surprised to see that there was not an ongoing customer satisfaction measurement program for the organization, even though the Boy Scouts has been in existence for more than 100 years. Weekley has always had a deep focus on customer satisfaction in his homebuilding business, so it was a natural extension to help the Boy Scouts of America develop its own measurements around this area. "I was able to fund,...organize, and lead the task force to implement customer satisfaction measurements in the Boy Scouts of America, which I think is going to transform the organization," he says.
Weekley says that in terms of thinking about the appropriate nonprofit measurements, it's important to discover what the "outputs" of a particular nonprofit are. In other words, what's important in terms of a particular nonprofit's work? For example, is it a family's movement from one income level to another? Is it a particular impact on a certain population's health? And beyond what you measure, how can you ensure accuracy? "A challenge with measurement is that it shines a bright light on results and sometimes in nonprofits, the results aren't as good as they hoped," says Weekley. "So there has to be a certain sense of confidence for this nonprofit to be willing to create the sense of transparency and share with donors what the results are."
Building blocks for new philanthropists
For Weekley, the philanthropic journey has been long and winding, and he freely admits to making mistakes along the way. For example, on the subject of his early days he says, "I gave to people who were friends, rather than giving to folks who I knew would be most effective at delivering what they were supposed to be delivering." Yet it was through the mistakes he made and through the time he spent delving deeper into his philanthropy that his experience has grown. So to the new philanthropist he recommends diving in and learning as much as you can. "I'd start making some significant bets now and get really involved enough in an organization to learn what challenges they have, what their issues [are], what measuring results is all about—but you've got to get engaged in a serious way to really learn about philanthropy," he says. "You can't just stand outside and look in and get it; you've got to get in the game to really make an impact."
Despite the work that effective philanthropy requires, Weekley's enthusiasm is unflagging for giving, and he recommends that new philanthropists adopt that same level of enthusiasm. "Go forward with confidence and, and excitement and energy and say, 'This is going to be a fabulous adventure...let's go!'"
David Weekley's Key Insights for Philanthropists