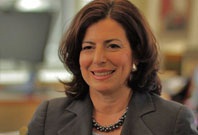 Asking for-profit companies to grow without vital foundational elements such as information technology and financial systems seems inconceivable. Yet that is exactly what nonprofits are asked to do every day when they are given philanthropic dollars that can be used only for program-related costs. "Very large, multimillion dollar, multi-year investments" without restrictions give proven nonprofits the capital they need to grow, says Nancy Roob, CEO of the Edna McConnell Clark Foundation (EMCF). And it's this type of funding that "nonprofit organizations typically have the hardest time raising."
Growth Capital Aggregation Pilot tests new donor collaboration
In the nonprofit sector—where big grants that provide unrestricted support for true growth can be virtually impossible to come by—the strategic philanthropy of Nancy Roob and EMCF is like food during a famine. And it's just as nourishing. Through EMCF's Growth Capital Aggregation Pilot, Roob and EMCF have attracted large funds from private donors and other foundations to help grow youth-focused organizations with proven models of effectiveness. In so doing EMCF has dramatically strengthened three nonprofits—Citizen Schools, the Nurse-Family Partnership, and Youth Villages. Today these three nonprofits earn more annual revenue, enabling them to reach many, many more youth and their families. In addition, with their proven programs, they have the potential to benefit from new federal funding opportunities.

The Edna McConnell Clark Foundation focuses on helping to develop and grow nonprofits that are, as Roob says, "proven to be working for the most disadvantaged kids [ages 9 to 24] in this country." To accomplish its funding support for organizations with such proven effectiveness, Roob says that originally EMCF believed that if it provided upfront money to help grantees build business plans, money from other philanthropists seeking results would follow. Instead, "the money would dribble in," ultimately risking the nonprofits' success. Roob realized something needed to change. It was from this realization that the Growth Capital Aggregation Pilot was created.

[For more on the importance of unrestricted funding, see "The Nonprofit Starvation Cycle."]

Roob says she and the EMCF team were convinced it was important for nonprofits to have the money they need to grow up front. Why? To allow leaders critical time to focus on executing without worrying about raising money. To that end, the GCAP was created to test a new approach to collaborative philanthropy. This approach relied on such principles as the importance of raising up-front unrestricted funding; asking co-investors to agree to the same terms and conditions for investment; and ensuring an effective exit; among others. As part of GCAP, Roob and the EMCF team "rolled up their sleeves" to raise funds. By June of 2008, EMCF, its grantees, and the grantees' boards had raised $120 million from 19 co-investors [of that, EMCF trustees had contributed $39 million of the total] with the Nurse-Family Partnership receiving $50 million, Youth Villages receiving $40 million, and Citizen Schools receiving $30 million.

[Related: For more on high stakes donor collaborations, see here.]

Roob points to the grantees' strong business plans—created with help from EMCF and The Bridgespan Group—as one of the key factors in this success. Roob says, "We set out with them to...build better-than-ever business plans that showed a much stronger correlation than we have shown before in the plans of how the infusion of upfront growth capital would lead towards financial sustainability for these organizations." Such plans allowed investors to also see how their philanthropic dollars could get the nonprofit to the next level; where they could exit, for example, five years later; and how other funding streams could ultimately take over. In addition, EMCF created efficiency for the grantees in a number of ways such as organizing and preparing funding reports.
Growth for grantees
The GCAP was a success, but Roob fears that growth of such co-funding opportunities may prove difficult, sharing that "I think we're really challenged with how do we scale up this type of an effort in an environment, in a sector that really doesn't fund in this way."

Yet perhaps more should consider it. In a recent independent analysis EMCF commissioned—An Experiment in Scaling Impact: Assessing the Growth Capital Aggregation Pilot—researchers Bill Ryan and Barbara Taylor found that from 2007 to 2011 the number of young people served by the three organizations grew an average of 69 percent. According to the EMCF website, the number of disadvantaged young people who are served annually by the three GCAP grantees grew from 25,047 in 2006 to 45,450 in 2011. Moreover, the GCAP grantees' annual revenues grew from $89.5 million in 2006 to $187.3 million in 2011.

In a true show of adaptive strategy, EMCF has looked to build on the success of the Growth Capital Aggregation Pilot with a next generation of pooled investing it has named the True North Fund. In 2010, EMCF was named a Social Innovation Fund intermediary and received funds to expand community-based nonprofits with evidence of strong results, and used that grant to establish the True North Fund in 2011 to grow capital. Unlike the GCAP, the True North Fund funders don't necessarily invest individually in nonprofits, but rather in a pooled fund that can go either to a general fund, have a regional focus, or be targeted to one or more specific grantees. "We see it as a step forward from the perspective of trying to create more efficiency in terms of the capitalization strategy," says Roob. "The irony of this is that it is entirely subscale in terms of what the need is in the sector and what really the opportunity is in terms of the wealth that exists in the sector."

Still, Roob points out that although it's the early days of this new strategy, it's exciting to have a group of investors learning about all nine grantees that have benefited from the pooled fund—and, as a bonus, the strategy streamlines work for grantees. "We do see that as a pretty significant step forward from an efficiency perspective for those grantee organizations and for the sector," says Roob.
Building on success
Clearly the innovative mindset that created the GCAP and the True North Fund requires an embrace of change. And not surprisingly, such a mindset is well represented at EMCF. "I think the thing that has been constant for the foundation has been our values and really the heart and the passion of our donors and...our Board," says Roob. "And I think that willingness and the ability to make change in order to achieve our mission is something that has really been constant."
Nancy Roob's Key Messages for Philanthropists