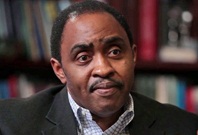 Silicon Valley evokes forward-thinking leadership, new business models, agile development, and new ways of collaborating. It's fitting, then, that one of its most well-known philanthropic leaders, Emmett Carson, founding CEO of the Silicon Valley Community Foundation (SVCF), embodies that ethos. As with eBay founder Pierre Omidyar, AOL's Jean and Steve Case, Facebook's Mark Zuckerberg (who gave $500 million in 2012 to the SVCF), and others, Carson has a vision for cutting-edge approaches to philanthropy. Here are three philanthropic insights he shares.
Younger donors are changing philanthropy.
Carson, whose organization provides grantmaking, leadership capabilities, and other services both locally and on a global level, sees big changes coming to philanthropy, and young donors are one reason why. [See: Young Philanthropists Take Top Spots in Ranking of Most Generous Donors] Carson points out that Silicon Valley is rife with twenty- and thirtysomethings who have bet big in business and are used to 24/7 connectivity and quick turnarounds, in business and in life, and that mindset carries into their philanthropic pursuits. "They want to engage; they want partnerships; they want people who can go on the journey with them," he says. Of the old philanthropic model, wherein donors (whether at the corporate level or at the level of more serious philanthropy) were expected to simply trust philanthropic experts to allocate funds without donor input, Carson says simply, "that model is broken."
Related
Philanthropy must include elements of collaboration.
A key tenet of Carson's philanthropy is collaboration, and he has clear ideas on what success looks like. What characterizes a true collaboration when nonprofits or organizations work together? Carson says it should have both shared targets and decision-making. "For collaboration to be genuine...all of the parties ought to really agree on what the end goals are." Carson says that all too often, what passes for collaboration is simply a watered-down version of the real thing; it's merely a measure of how many people "sign a piece of paper," and stakeholders continue to do what they've already been doing. Real collaboration is partners confronting tough issues together in new ways.
Successful philanthropy requires adaptive strategy.
Similar to the style of software and project development so evident in Silicon Valley, Carson employs an agile, iterative approach to philanthropy, or what could be called adaptive strategy. He says that philanthropists should evaluate grantee performance using cheap, low-cost tools at frequent intervals rather than expensive studies at the beginning and end of a grant term. Many grantmakers ask for the evaluation component as part of the proposal, Carson says, but "we didn't do that with our cohort groups." Instead, he says that evaluation can be an integral part of the process, as with software iterations—1.0, 2.0, and so on—he says. "As we learn something, we disseminate it," says Carson. "The idea of just doing the same thing for three to five years and then you're going to tell me if it's successful? No business runs like that, other than foundations," he says.
Emmett Carson's Key Messages for Other Philanthropists