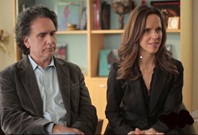 In 2006, Peter and Jennifer Buffett received a fax from Peter's father, Warren Buffett, announcing a gift of $1 billion to support the couple's philanthropic activities. Though the Buffetts had previously received two other gifts from Peter's father totaling more than $10 million, this donation catapulted their philanthropy to "a whole different level."
Advice on choosing a focus
This new level raised some difficult questions for the Buffetts: Among so many causes and organizations, how would they determine where to start and how to focus their resources? While Peter's father made no restrictions on the gift, he advised the couple to think carefully and to "go where others are not." Inspired by this advice, the Buffetts set out on a journey to do just that.
Thoughtful research
Over the next two years, Peter and Jennifer devoted themselves to finding a new focus for their philanthropy. While many of their earlier efforts had been in their home community in Milwaukee, the couple decided to take a more global approach to investing this new gift. They travelled across the world, visiting communities in Africa and Asia. Through hundreds of conversations, Peter and Jennifer learned about trends in global philanthropy—what was working, what wasn't, and why.

You can see the complete archive of Jennifer and Peter Buffett videos here.

[Related: Spotlights on Philanthropist's Strategy]
Deciding to focus on women and girls
In their travels and conversations, the Buffetts found that across cultures and continents, women and girls are disempowered, abused, and exploited. Women make up 52% of the global population but account for an estimated 70% of the world's poor. Despite the vital role they play in supporting and maintaining their communities, women are systematically undervalued. The Buffetts saw these imbalances reproduced throughout society. What made this problem particularly compelling for Peter and Jennifer was the heartbreaking reality that—though these inequities appeared to be widely known—few philanthropists, leaders, or policymakers were devoting significant time or resources to solve it. As Jennifer says, it was "the little secret that nobody wanted to talk about." This was where others were not: This was where they should go.

[Related: International Women's Day]

To structure their giving to this cause, the Buffetts started the NoVo Foundation, focused on empowering adolescent girls, ending violence against girls and women and creating peaceful, balanced communities across the world. Through their guidance and support of organizations like Women for Women and the Girl Effect, the Buffetts are working to reverse these patterns of inequity and give thousands of young women the chance to delay marriage, stay in school longer, and improve their standard of living.