Executive Summary
The nonprofit sector is experiencing a racial leadership gap. Studies show the percentage of people of color in the executive director/CEO role has remained under 20 percent for the last 15 years even as the country becomes more diverse.
To find out more, the Building Movement Project conducted the Nonprofits, Leadership, and Race survey. Over 4,000 respondents answered questions about their current nonprofit job, interest in leading a nonprofit, training/supports, views of leadership, and personal background. They were also asked about their views on race and the nonprofit sector. This report, the first in a series to be released over the next two years, will compare people of color and white respondents' background, aspirations to be leaders, training, and attitudes towards leadership.
The findings from the survey challenge the way the nonprofit sector has been approaching the racial leadership gap. The prevailing theory of change has been that there needs to be more attention on finding or convincing people of color to consider leadership positions, keeping those who are qualified from leaving the sector, and offering training to the others to prepare them for taking on the top job. Underlying this logic are the assumptions that people of color are less interested in nonprofit leadership than their white counterparts, that qualified leaders of color will leave the nonprofit sector, and that those who stay do not have the skills to be competitive (without help) for top leadership jobs.
The findings point to a new narrative. To increase the number of people of color leaders, the nonprofit sector needs to address the practices and biases of those governing nonprofit organizations. Rather than focus on the perceived deficits of potential leaders of color, the sector should concentrate on educating nonprofit decision-makers on the issues of race equity and implicit bias accompanied by changes in action leading to measurable results.
The results tell a different story. They show more similarities than differences in the background and preparation between white and people of color respondents. In addition, people of color are more likely to aspire to be leaders than white respondents.
This new narrative transfers the responsibility for the racial leadership gap from those who are targeted (people of color) to those who oversee organizations as well as the sector overall, which needs to embrace systems change work to ensure that its policies, practices and culture are aligned with the values of diversity, inclusion and equity.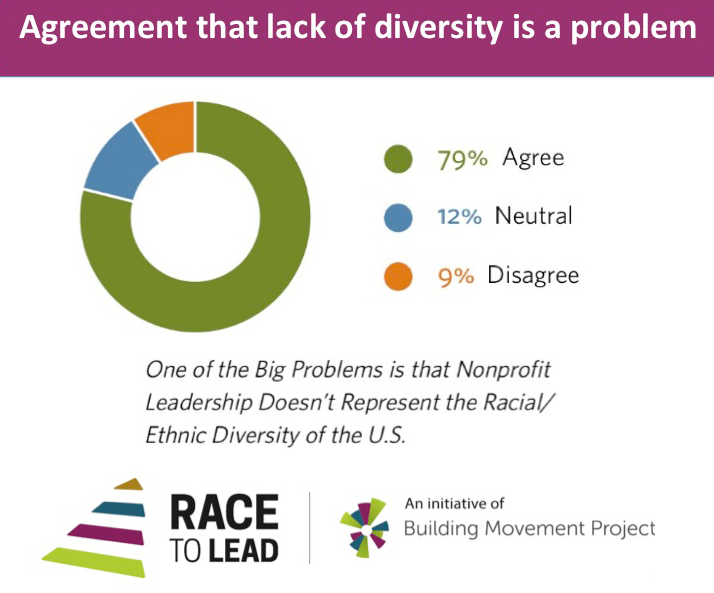 Based on the more than 4,000 responses to the Nonprofits, Leadership, and Race Survey, the data indicate that the key things to understand about the nonprofit racial leadership gap are:
It's NOT about Differences in Background or Qualifications: People of color and white respondents have similar backgrounds in education, position, salary, and years working in the nonprofit sector.

It's NOT about a Lack of Aspirations: People of color aspire to be leaders more than white respondents. For those who do not aspire to leadership, most—across race—are looking to maintain work/personal life balance. But people of color who are not aspiring leaders are more likely to be looking for jobs outside of the nonprofit sector.

It's NOT about Skills and Preparation: Most aspiring leaders thought they had the qualities needed to be a good leader. When asked about the training they received, people of color and whites had few differences in the areas of financial skills, goal setting, articulating a vision, advocacy and collaboration. People of color were more likely to see themselves as visionary and able to relate to their target population, but less ready to fundraise than whites.

It IS an Uneven Playing Field: The majority of aspiring leaders feel prepared to take on an executive role. However, over a third reported they want more technical and management skills, with people of color respondents identifying this need more often than whites. People of color were more likely than white respondents to see race/ethnicity as a barrier to their advancement.

It IS the Frustration of "Representing": All respondents have challenges, but people of color are significantly more frustrated by the stress of being called upon to represent a community. They are also more challenged by inadequate salaries, the need for role models, lack of social capital/networks, and the need for relationships with funding sources.

It's NOT Personal, It IS the System: Respondents across race squarely identify the lack of people of color in top leadership roles as a structural problem for the nonprofit sector. They believe that executive recruiters and boards could do more to diversify leadership. Whether due to bias or other factors, respondents of color were more likely than whites to agree it is harder for people of color to fundraise. They also were more likely than whites to see barriers to people of color advancing either because of smaller professional networks and/or the need for more training.
The findings indicate that people of color are as ready as whites to take on leadership roles, but they face unspoken and unconscious biases that prevent those with the hiring power from fairly assessing, recognizing and valuing their potential. In other words, people of color with leadership aspirations are finding that their leadership interests are not matched with opportunities to take on these roles. Offering people of color supports to advance their leadership is important, especially given the racial bias they are likely to encounter. However, as many people of color already know, training will not succeed in moving the dial without a simultaneous and widespread effort to target those governing organizations, challenging the norms and assumptions about race that are deeply embedded in the nonprofit sector and in our society at large.