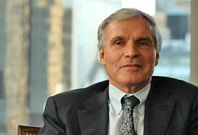 A single picture can be worth a thousand words, convey a complex idea—and change the course of a philanthropic journey. Such was the case for Ray Chambers, Co-Founder and former Chairman of private equity firm Wesray Capital Corporation and UN Special Envoy for Malaria and UN Special Envoy for Financing of the Health Millennium Development Goals (MDGs).
In 2006, Chambers was meeting with Jeffrey Sachs, world-renowned economics professor at Columbia University, as part of their work on the United Nation's Millennium Development Goals. In the course of one meeting, Sachs showed Chambers a photo he had recently taken of what appeared to be a roomful of sleeping children in a Malawian village. Only they weren't sleeping—they were all in malaria comas, and most would probably die.
"I'll never be able to get that image out of my mind's eye," says Chambers.
See the complete archive of Ray Chambers' videos.
Chambers used his distress as a catalyst to do whatever he could to end malaria. In his research, he learned that malaria was killing a staggering 1 million children under the age of 5 each year. In addition, he found that because malaria-carrying mosquitoes bite at night, bed nets blocked mosquitoes and provide an effective—and inexpensive—prevention strategy. In his research, he also found that 90% of malaria deaths occurred in Africa, and nearly two-thirds of those in just a handful of African countries. Armed with this knowledge, Chambers started Malaria No More in an effort to bring attention to the problem, raise funds to fight it, and bring together organizations that could help—with a targeted focus on the handful of African countries that were most affected.
Since viewing the image that set Chambers on a new path, he says that the work of he and his partners—African leaders as well as the Center for Disease Control and Prevention, the Peace Corps, Save the Children, and even the television show American Idol, among many others—has reduced mortality from malaria by 50% in more than 11 African countries. Chambers says that Zanzibar is down to zero mortality and that if he and partners continue to execute the plan, which will need some very creative funding, he believes they can reduce malaria deaths to zero by 2015. "Over the last five years, we've raised over $5 billion and covered over 800 million people with 400 million bed nets," he says. Chambers points out that malaria has cost the sub-Saharan African continent more than $40 billion a year in lost GDP, and he believes that by 2015, they can restore that. "An investment of $5 billion to return a million lives and $40 billion a year is the kind of investment that, if I were in business, I'd make every day."
Ray Chambers' Key Messages for Philanthropists
Sources: