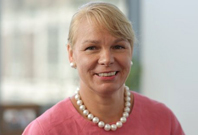 As a top investor in the largely male-dominated investment industry and as a leader in promoting ethical business practices, Jane Siebels, founder of Green Cay Asset Management, stands out for her innovative mindset, the foundation for which was laid in childhood. "Growing up in Iowa where everything was possible...was very key," she says. "My mother used to say, 'There's no such thing as can't in our family's vocabulary.'"
A family focus on character and ethics
Connecting with mentor Sir John Templeton
When her mother's breast cancer brought Siebels back to the United States, she was hired by Wall Street legend and philanthropist Sir John M. Templeton. "I was the first woman that he ever hired," she says. Under his guidance she learned many valuable lessons, which, not coincidentally, honored her family's teachings. "Sir John always taught me to do things differently than anybody else, and my father also said the same thing," says Siebels. "Both of those gentlemen...were key to that." Sir John's pioneering spirit was captured in part by the books he authored, and Siebels points to her favorite, Possibilities, praising its inspiration to cultivate a spirit of inquiry and openness. Her take-away? "If you go through life and you realize that everything is possible and have that childlike curiosity and wonder, it's just going to be reflected in the innovations that come to you," she says. "And your mind will be open to those innovations."

See a complete archive of Jane Siebels videos.

One innovation Siebels' mind was decidedly open to was Sir John's focus on doing good and promoting ethical business practices. As a portfolio manager at Franklin Templeton, Siebels became a "kind of socially responsible representative for Templeton." Sir John not only rewarded his like-minded protégé by making her a trustee of the John M. Templeton Foundation, but when she left Templeton to start the first socially responsible investment firm, Sir John was a founding investor
Finding new ways to do good
Siebels has continued on that socially responsible path. For example, Green Cay Asset Management is known for short selling unethical companies to pressure them into taking corrective action. "This is a sword that I can use," she says. Using short selling in this way does not always bring about the intended change, but Seibels has used it successfully, for example, she pressured a Turkish company into remedying its unsafe working conditions, thus demonstrating how the markets can be a force for good. Meanwhile, to find companies with values that she'd like to support, Siebels dives deep, finding organizations that other impact investors might overlook in part through an innovative online contest that uses crowd-sourcing to gain local information that would not otherwise be available.

In 2009, after seeing a need for greater efficiency and collaboration amongst philanthropies, Siebels cofounded an invite-only Facebook-like social media network for philanthropists and foundations called iGivingWorld. The network provides an easy way for donors to collect around specific interests and to share information that can help them become more strategic and effective. In service of its clientele, iGivingWorld puts a premium on security and privacy, and members are vetted before being invited to join. "You can go to iGivingWorld and talk with other philanthropists and learn from their experience," says Siebels. "You can...find philanthropists that are interested in the same things that you are and perhaps work with them, and certainly for a beginning philanthropist, there might not be a need to reinvent the wheel."