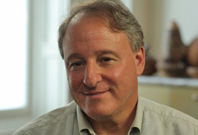 "Advancing business accountability and business responsibility is the great [overlooked] area in philanthropy today," says philanthropist Josh Mailman, who counts promoting corporate responsibility and advancing social responsible businesses as two of his key passions. "The way that philanthropy has traditionally operated, nobody wants to put a lot of money into seeing how that change can take place, but the fact is there's fantastic leverage there."

That sentiment reflects Mailman's conviction that business and philanthropy need not be at odds, or even, in some cases, separate. Like other forward-thinking philanthropists, Mailman is a strong believer that business can be a force for good—he was among the first investors in Stonyfield Farm, a leader in the corporate social responsibility space; the Utne Reader; a magazine devoted to independent and alternative viewpoints; and Seventh Generation, a distributor and producer of environmental household products. Mailman is also the co-founder of Social Venture Network, a nonprofit organization composed of businesspeople and social entrepreneurs who share Mailman's belief that business can change the world for the better. He has also played a key role in starting other organizations that are promoting social good, including the impact investing network Investors' Circle; BSR (Business for Social Responsibility), which works with its global network of businesses to enhance sustainable performance; and Net Impact, which empowers students and professionals to use their careers to transform the world. Collectively, these organizations foster collaborations among private companies, social entrepreneurs, private investors, early stage ventures, Fortune 1000 businesses, and business school students to promote socially responsible business.
Threshold Foundation. According to his Million Dollar List profile, Threshold has made close to $20 million in grants to innovative, grassroots organizations for which Threshold's early funding was a real turning point. Says Mailman, "If you really want to change society you have to build movements." And movements need funding.

"The idea of getting wealthy people involved in building movements is a really good idea, because movements are mostly people that don't have money," he says. "So it's a really good combination because you need people to change things; you need communities of people to move the world forward."

See a complete archive of Josh Mailman's videos.