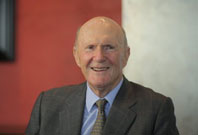 For Julian Robertson, Jr., what has been most rewarding about his philanthropy is the development of the Tiger Foundation, which carries out its mission to break the cycle of poverty in New York City by funding nonprofits focused on education, employment, youth and families, or criminal justice.

Robertson established the Tiger Foundation in 1989 as a charitable arm of Tiger Management, an investment firm he founded in 1980. Robertson led Tiger Management into becoming one of the world's largest hedge funds, with capital exceeding $23 billion, and growing at 31.5% between its founding and its closing in 2000. As noted in a 2007 Bridgespan case study, Robertson always had similarly aggressive ambitions with his foundation: As an express goal, he sought to both invest in successful anti-poverty initiatives throughout New York while also grooming his "Tiger Cubs" to be thoughtful, results-oriented philanthropists.

Though Tiger Management no longer exists, the Tiger Foundation has lived on, and has exceeded Robertson's expectations: Tiger trustees report their involvement with the foundation influences their overall philanthropy dramatically, and has the effect of increasing what they give overall—ranging from a 20 percent increase to a 10-fold increase. And as many as 90 percent of trustees say that their work with the foundation has also influenced the type of organizations they give to; many have shifted their primary philanthropic focus from arts or higher education to disadvantaged populations. Some of the hedge fund managers who started at Tiger Management, where they initially engaged in philanthropy, began their own hedge funds—and their own high-impact foundations. The Tiger Foundation has "begat," in Robertson's phrase, the Lone Pine, the Blue Ridge and Shumway foundations. It's a process he hopes continues. "The Tiger Foundation...worked better than I even hoped it would."

See a complete archive of Julian Robertson' videos.

"My hope for the future of the Tiger Foundation is that it continues to spawn good foundations," he says. It "has certainly done that so far; I think it will in the future." While such replication might worry another philanthropist, the thought that the Tiger Foundation inspires others makes him happy. "I'm not worried about [the Tiger Foundation] being hurt by spawning new foundations—I think that's part of its mission and I think as more and better foundations are started by its members, its reputation and strength will grow."