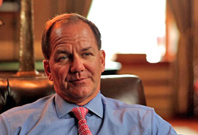 Early in his philanthropy Paul Tudor Jones, founder of Tudor Investment Corporation and venture philanthropy organization the Robin Hood Foundation, learned an important lesson: All the energy, love, and money in the world dedicated to your philanthropy won't get you far if you don't also have the strategy to achieve your goals.
Jones began his philanthropy journey in 1986, when he was in his early 30s. Inspired by a 60 Minutes report, he adopted a class of Bedford Stuyvesant sixth-graders as part of the "I Have a Dream" Program: He would pay for their college tuition if they graduated from high school. Bedford Stuyvesant was one of New York City's toughest neighborhoods, but Jones was up for the challenge. "My 'I Have a Dream' class started out as this incredible model of energy, resource, investment, and love," Jones says, who himself was recently profiled for 60 minutes. For example, he took the students on ski trips, and he took them on a trip to Africa. "We did every kind of field trip you could imagine, and I was involved with them in their homes, and I was going over their report cards with them." And then he found out his efforts were not achieving the desired goals.
[Related: Three Strategies for Creating Effective Philanthropy Alongside an Active Career.]
About five years into Jones's involvement, a Harvard researcher asked to study the student's progress as part of an overall assessment of the 'I Have a Dream" Program. Jones says they measured metrics such as class attendance, dropout rates, teenage pregnancies, and college attendance. He says that his program excelled in the area of college enrollment: There were three times as many people enrolling in college as what had statistically been the case for that demographic, an occurrence he attributes to the offer of scholarship money he provided. But that was one of the only metrics about which he could boast.
"On virtually every metric, the class that I'd adopted was no different than another class from an elementary school that was a few blocks away," he says. Jones says that the mistake he made was neglecting to focus sufficiently on the students' academic needs: "I confused energy and financial resources with what those kids really needed, which was extraordinary amounts of academic intervention." He was spending his resources in a way that did a lot of good, but Jones' failure to set his students' academic acceleration as an "explicit goal," meant that ultimately he was not achieving the results he sought for the kids. Jones took the lesson to heart, saying: "That was eye-opening for me, and that actually was maybe the best thing that's happened to me in my journey in philanthropy."
See a complete archive of Paul Tudor Jones' videos.
In 2009, Jones even described this experience in a commencement address to the Buckley School's graduating ninth-graders on the subject of failure. For Jones, as for many remarkable philanthropists, failure provides rich lessons. "The most important thing is you've got to have a process that you know is going to work," he says. "You're not going to achieve your goal if you don't have a great way to get there and know exactly what the road's going to look like."
Paul Tudor Jones' Key Messages for Philanthropists