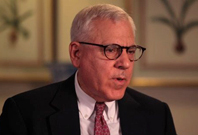 Like many of today's remarkable philanthropists, David Rubenstein, Co-Founder of asset management firm The Carlyle Group, believes in giving while living and hopes to give away more than half of his wealth during his lifetime. Rubenstein signed the Giving Pledge in part to inspire others, especially younger people, to also give of their money—and more importantly—of themselves. "I tell everybody if you want to be a good philanthropist...you don't just have to give away money: Give away your time, your energy, your ideas," he says. "I think it's unfortunate that the lists of the great philanthropists only [include] people by the amount of money they give away as opposed to the ideas, the time, and so forth; I don't know that I can change that, but I do think it's important if you're going to be a philanthropist to think that it's not just about giving money."


In a concrete example of this belief, Rubenstein currently serves on a number of boards—31 at the time of his interview with Bridgespan. Yet, he also believes in being strategic with one's precious personal resources, especially time, and to that end he is currently in the process of narrowing his focus so he can concentrate on a few organizations and causes, recognizing that by doing so he can increase his impact. Being strategic is especially important since Rubenstein is engaged in his very busy career alongside his active philanthropy.

See a complete archive of David Rubenstein videos.

Instead of building up an entirely new skillset for philanthropy, Rubenstein says, "I've tried to...take my private sector skill and translate it into the philanthropic sector," he says. A key talent he uses? Asking people for money. It's no surprise that many people have difficulty asking others for money, so Rubenstein happily steps in and applies the unique skills that brought him success in his business—fundraising and persuading others—to his philanthropy. "[O]ne of the skills that I've tried to bring to the philanthropic area is...to try to help the organizations by helping them raise money in addition to just giving my own money."

Philanthropy—on top of his for-profit career—creates a virtually nonstop schedule, but Rubenstein is grateful for what giving has brought to his life. "I could have spent my entire life just building my company and making more and more money, and then on my deathbed say, 'Here's all the money. Somebody give it away,'" says Rubenstein. "I wouldn't have been involved with any of the giving away; I think that would have been a less rich and less enriching life."
David Rubenstein's Key Messages for Philanthropists