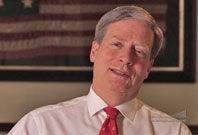 The business world long witnessed Stanley Druckenmiller's predilection for big bets and strategic excellence. He famously led George Soros' $10 billion bet against the British pound and ran his investment firm, Duquesne Capital, for 30 years without a down year.
Perhaps not as well known—at least for many years—was Druckenmiller's long history of generous giving. But in 2009, the year before he would close Duquesne, Druckenmiller made a big bet on his philanthropic commitment when he, along with wife Fiona, gave $705 million to the Druckenmiller Foundation. That gift earned them the top spot in the Chronicle of Philanthropy's 2010 list of most-generous philanthropists in the United States. Then in 2011, the Druckenmillers were once again honored for their philanthropy, when they were chosen to be among the recipients of the Carnegie Medal of Philanthropy.
Large gifts and big bets
Often noted as being media shy and private, Druckenmiller tells Bridgespan in an exclusive interview that he and Fiona were never "foundation people." He says that he never thought people should be very public about their philanthropy, so for a long time they weren't. But when he received a large sum of money in 2008 as he was getting ready to close Duquesne, he had to decide between giving all the money away or putting it into his foundation. He chose the latter. Druckenmiller sees the foundation as the vehicle through which he can act on his ideas and make big bets to achieve in philanthropy as he did in the business world. And though the Druckenmillers have given to a number of philanthropic causes—mainly in the areas of education, environment, and health—they made their biggest bet of all on a specific cause in 2009 when they gave $100 million to NYU Langone Medical Center to establish a state-of-the-art translational neuroscience center.
The center will have the potential to bring therapies from the laboratory to the clinic at a faster rate, which will become increasingly important as research on the brain expands. "By better understanding brain dysrhythmias, neurotransmitter imbalances, and how to maintain optimal neuron health, we can help those afflicted by such diseases as Alzheimer's, Parkinson's, MS, and ALS," the Druckenmillers said in a press release. "The brain is one of the last great frontiers in medicine, and advances in related research could help both the individual and society function at a higher level."

View a complete archive of Stanley Druckenmiller's videos.
Betting on an exceptional leader
On a personal level, Druckenmiller has long been involved with the Harlem Children's Zone (HCZ), a nonprofit, community-based organization serving more than 10,000 children and more than 7,400 adults in New York City. The organization has received numerous accolades, including from President Obama, who has said the nonprofit is "literally saving a generation of children." In addition, Harlem Children's Zone has been identified as the model for the national Promise Neighborhood initiative seeking to support cradle-to-career solutions for youth in neighborhoods across the country. Much of the spotlight for HCZ's success rightly falls on its leader, Geoffrey Canada, whom Druckenmiller knew from their first encounter was exceptional. The two met when Canada's organization was then just a promising after-school program called the Rheedlen Centers for Children and Families. "In reference to what makes a great leader, probably the best example I could give you is Geoffrey Canada," he says. That's important since Druckenmiller has identified exceptional leadership as a prerequisite to his involvement. "We will not invest in an NGO without a great leader," says Druckenmiller. "We don't invest in an idea and then try and remake the thing or find a great leader." Druckenmiller is Chairman of the HCZ board, a position he has long held, and a role that he has used to help grow the nonprofit's finances to match Canada's ambitious vision.
Like all remarkable givers, Druckenmiller is far from a solo player, and he calls out his early and current influences readily, including Canada, who clearly inspires him; George Soros, who matched his employees' giving four-to-one; Fiona, whose enthusiasm to "give it all away" has been a clear inspiration to him; and Paul Tudor Jones, who founded the Robin Hood Foundation and whose board Druckenmiller joined as a burgeoning philanthropist. "I got involved on the board with him and sort of spread my wings and just looked around at where I thought I could make a difference." To others who are new, he says: "The key lessons are bet big, and get involved: [Just] writing the check won't do it."
Stanley Druckenmiller's Key Insights for Philanthropists