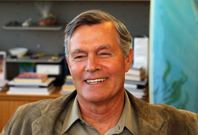 The late Conrad Hilton, founder of the Conrad N. Hilton Foundation, wrote in his last will and testament, "There's a natural law, a divine law, that obliges you and me to relieve the suffering, the distressed, and the destitute." It was a fitting statement for a will that bequeathed nearly his entire hotel fortune to his foundation.
Those words have become a mission statement for Conrad's grandson Steve Hilton, who has been with the foundation since 1983 and has served as its CEO since 2005. The foundation invests in a host of issues that truly serve the most distressed among us, including providing clean water internationally, to supporting children affected by AIDS, to collaborating with other local funders to ease homelessness in Los Angeles. The foundation also works to contribute to humanitarian work through its notable award, the Hilton Humanitarian Prize.
Founded in 1996, the prize is awarded to a nonprofit "judged to have made exemplary and extraordinary contributions to alleviate human suffering." Hilton Foundation staff conduct extensive reviews of candidates annually, and an international and independent jury make the final selection. This fall the foundation will make its annual announcement—this year will mark number 18—honoring one nonprofit organization with the Hilton Humanitarian Prize.
See a complete archive of Steve Hilton videos.
The award is somewhat unusual in that it goes to an organization, rather than an individual. The nonprofit awardee receives $1.5 million (making it the world's largest humanitarian award) in totally unrestricted dollars, which is precious currency to nonprofits seeking to invest in their ability to grow.
Beyond the opportunity that such scarce resources provide, Steve shares his hope "that if we can raise the visibility of a nonprofit doing extraordinary work to help alleviate human suffering, that would encourage other donors to donate to the organization or even the field…"
Case in point, Operation Smile—a nonprofit that provides surgeries to children born with cleft palates. While Steve says that direct impact of the prize is hard to measure, he points out that Operation Smile grew dramatically after receiving the first Hilton Humanitarian Prize, partly, he believes, as a result of the prize.
Collaboration can be a powerful tool in philanthropy, and to that end the Hilton Foundation encourages awardees to work together where appropriate. For example, in the aftermath of the earthquake in Haiti, two former awardees, Partners in Health and SOS-Kinderdorf, "came together to provide a home for children with disabilities," says Steve. "Together, they were doing something that, alone, they wouldn't have done as effectively."
For more on how awardees are teaming up to create greater impact, see the Hilton Foundation website for stories of what it calls a "laureate collaborative."
Steve Hilton's Key Messages for Philanthropists
Sources: Steven M. Hilton video interview with The Bridgespan Group; the Conrad N. Hilton Foundation website.