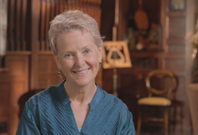 Despite spending her formative years in the conservative culture of 1960s Texas, Swanee Hunt's own feelings did not align with the Southern Baptist climate that viewed civil rights and progressive causes as a threat. For example, she believed in empowering women and people of color and felt that these beliefs aligned with the teachings of the gospels, which she studied in Sunday school.
By her early 30s, Hunt, the daughter of Texas oil billionaire H.L. Hunt, was giving away half of her $70,000 annual income as a Presbyterian pastor to causes in her hometowns of Dallas and of Denver. But before long, Hunt's philanthropic mission extended globally and today she focuses on achieving global gender equality as a means to end war, break political gridlock, alleviate poverty, and stop global sex trafficking.
Take Women Moving Millions, which she launched with her sister, Helen, in partnership with the Women's Funding Network. The organization is a community of people who have made gifts and pledges of $1 million or more to causes dedicated to helping women and girls. This major global funding initiative began in 2005 when Hunt made a massive financial pledge to Helen, who was already focusing on women's causes, to help two of the most subjugated—and underserved—groups across the globe. In true sisterhood, Helen quickly made a pledge of her own, saying, "Women have got to raise the bar, we've been nickel and diming our philanthropy for too long." The two worked together to use their combined $10 million to create a breakthrough in giving. How big? Despite fundraising through the global recession, to date, 178 donors have pledged more than $253 million to the causes of their choosing that support women and girls throughout the world.
See a complete archive of Swanee Hunt videos.
In other words, Hunt's journey started small—local giving with half of her salary—but her goals grew more ambitious as she gained experience. Hunt believes philanthropists don't need to have it all figured out before they start their journey. "People think...you just have to have it all lined up and perfect before you act," she says. "That's not how it works."
Swanee Hunt's Key Messages for Donors