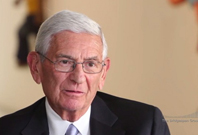 Eli Broad, founder of two Fortune 500 companies and author of the recently published business book The Art of Being Unreasonable, has pledged to give away the bulk of his vast wealth to philanthropy. To sort through all the requests and opportunities that come his way, Broad first distinguishes whether an opportunity is charity or qualifies as philanthropy. For Broad, charity is "just writing checks," whereas philanthropy is "really getting engaged" with one's time, influence, and money to make a difference. For the portion of his giving that he classifies as charity, Broad writes checks to organizations or causes with which he has some personal connection, without rigorously assessing their potential to make a difference.
For opportunities that fall into the "philanthropy" category, on the other hand, Broad asks three questions to determine if he should invest.
See a complete archive of Eli Broad's videos.
"Would it happen anyway?"
The first question draws on Broad's entrepreneurial success; he has an orientation to create things that don't exist. Broad's philanthropy is rich with efforts that no one else has pursued, including the creation of the Broad Institute, which brought Harvard and MIT together for a one-of-a-kind partnership around medical research.
"Will it make a difference 20 or 30 years from now?"
The second question is focused on results or, as Broad says, on how to "make the greatest change." For Broad, that means getting results that will endure for decades. To get sustainable results, he makes large, long-term investments in opportunities, believing that to really make a difference, a philanthropist must "make bigger bets."
"Is [the] talent leadership there that can really make it happen?"
The last question is rooted in how Broad believes great ideas become reality. Whether in business or philanthropy, Broad has always believed that the success of an organization is "all about the quality of people." Quality leaders turn innovative ideas into lasting results.

Broad asks three questions to assess philanthropic opportunities—what questions do you ask?