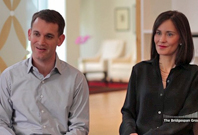 John Arnold, and his wife, Laura, answered the call of philanthropy at an age when most professionals dedicate their time and energy to the business world. The thirty-something couple left prestigious careers—he announced his retirement from hedge fund management last year, she is an attorney and a former oil company executive—to pursue substantial reforms to pension plans, education, and criminal justice.

Beginning philanthropy early has allowed the Arnolds to see the effects their giving is having earlier in life, they say, and they are committed to giving while living. In 2008 they signed The Giving Pledge, and that same year they established the Laura and John Arnold Foundation (LJAF). Grantees include Teach for America, KIPP, YES Prep Public Schools, and the Pew Charitable Trusts. In addition, they are currently in Phase II of the Giving Library, an online video library the LJAF is funding that is designed to help philanthropists more efficiently survey the landscape of giving opportunities and connect with nonprofits through engaging video interviews. They've invited nonprofits to apply (by Feb. 11) for one of the 600 spots that are open.



Video: The Arnolds are open to failure in their philanthropy

Learn more about Laura and John Arnold and find a complete archive of their videos for Conversations with Remarkable Givers.