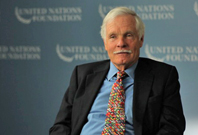 Through the years, media mogul and CNN founder Ted Turner cut a larger-than-life figure as he made headlines and built his broadcast empire. Today, the founder and chairman emeritus of Turner Broadcasting Systems uses that trademark passion and his deepest values in service of his philanthropy, particularly through his work for the UN Foundation, which he founded and of which he is Chairman.
The United Nations, on whose behalf the UN Foundation advocates, had its origins in 1942 during World War II as a declaration to end the reign of Axis powers and was officially established in 1945, following the end of the war. The United Nations pledged to help promote worldwide peace and security and advance fundamental human rights. Its formation had a powerful effect on Turner, who was 7 that year. "It was a big news story and a news story that went on for years," he says.
Ted Turner on funding the UN
Turner credits the United Nations for preventing the further escalation of military conflicts in the years following World War II, especially those arising from the Cold War. "I remember specifically when [Soviet leader Nikita] Khrushchev was addressing the United Nations and he was so angry [that] he took his shoe off and pounded it on the podium," says Turner. "But he didn't order the bombers to come because he had a place where he could let off steam." And that's one the many aspects of the UN that Turner admires—it provides a forum to speak out and be heard, a deeply valuable service in de-escalating conflicts on the global stage as it is in the rest of life. "The act of listening does a lot to diffuse anger," he says. Even if the listener doesn't do what you want, "at least you got a chance to be heard and that shows respect and that takes away a lot of whatever anger you had," he says.
Get Guidance
Consult our "Finding Your Philanthropic Compass" to learn how to use your values and passions to choose philanthropic causes and make other strategic decisions.
Turner is no stranger to speaking out and being heard, and he did just that in 1997 when he announced a historic gift of $1 billion to support the United Nation's causes and activities. Through the UN Foundation, which he created as a vehicle to dispense this gift and advocate for the United Nations, he has worked to promote global health, preserve the environment, and fight for the needs and rights of women across the globe.
The man who was once quoted as saying "You should set goals beyond your reach so you always have something to live for" is now living to change the world for better. He has used his philanthropy as a public expression of his deepest values and beliefs to achieve results and inspire others. "I've tried my best to make a difference," he says. "You never know how long you're going to be here—life is short."
Ted Turner's Key Messages for Other Philanthropists