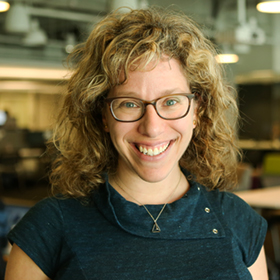 Deborah Bielak
Partner, San Francisco
---
Debby Bielak is a partner in Bridgespan's San Francisco office, where she focuses on the inter-related areas of economic opportunity and mobility, place-based change, and advocacy and influence. Since joining Bridgespan in 2008, she has led several significant advisory and knowledge-generation projects focused on shifting power, advancing equity, and breaking cycles of intergenerational poverty. Her clients have included institutional foundations, community foundations, high-net-worth individuals, funding collaboratives, intermediary organizations, and advocacy and influence organizations focused on areas ranging from education to democracy.
The through line across this work is building authentic relationships with leaders and identifying their opportunities to scale impact through a combination of stakeholder engagement and analysis, including system frameworks to understand points of leverage. She leads deeply inclusive, co-creative processes with a focus on representation from those most affected by inequity.
Debby's philanthropy advising engagements have included supporting fund design for Blue Meridian Portfolio's Place Matters Fund, which invests deeply in a small set of effective place-based partnerships and provides catalytic supports for hundreds of others, and for Seattle Foundation's Fund for Inclusive Recovery, which builds the power and invests in the leadership of Black, Indigenous and other people of color in King County. She has helped establish organization-wide strategies, supporting the Chicago Community Trust to develop a strategy to close Chicago's racial and ethnic wealth gap, the Democracy Fund to identify the work most essential to move toward a just, open, multi-racial democracy, and the Omidyar Network to refresh its capabilities and define its areas of focus of Reimagining Capitalism, Beneficial Technology, and Pluralism.
Her nonprofit advising engagements have focused on strengthening advocacy and influence organizations and movements, lasering in on their highest-impact roles in their fields. For example, she supported the Anti-Defamation League in its organization-wide transformation and helped Community Change develop a national anti-poverty campaign and an operating model that enables a balance of proactive and responsive campaigns.
Debby has co-authored publications including, "Race and Place-based Philanthropy: Learnings from Funders Focused on Equitable Impact," "'Billion Dollar Bets' to Create Economic Opportunity for Every American," which has been cited in The Atlantic, Forbes, and Stanford Social Innovation Review, and the forthcoming "Power and Promise of Feminist Movements."
Prior to joining Bridgespan, Debby was an engagement manager and social sector fellow at McKinsey & Company, a high school mathematics teacher, an econometrics researcher, and a grassroots activist. Debby earned her BS from Haverford College with honors and her MBA from the Wharton School, where she was a co-founder of the Social Impact Management Initiative.