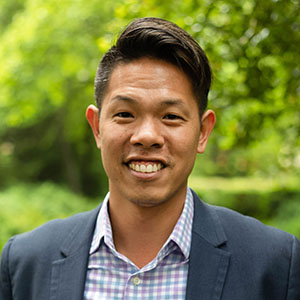 Nate Wong
Partner, Boston
---
Nate Wong is a partner in The Bridgespan Group's Boston office, where he focuses on equity-based, power-shifting efforts that ensure communities have the agency to influence the decisions that may affect them. He brings cross-sector experience having worked with policymakers, non-profit leaders, business executives, philanthropists, and impact investors in over 10 countries related to transformative systems change efforts. A believer in human transformation alongside organizational and systems change, Nate is also an adjunct professor and lecturer at Georgetown University, where he pioneered an open-sourced course called "Building a Social Impact Consciousness."
Prior to Bridgespan, Nate served as the Chief Strategy and Social Innovation Officer of the Beeck Center, an experiential hub to incubate emergent ideas in the social impact space, housed at Georgetown University. He oversaw the Center's differentiated approach to social innovation and scale, while also leading its impact tracking and growth initiatives. Nate served in numerous roles at the Beeck Center including as Managing Director and a year-stint as interim Executive Director. Before Beeck, Nate served as founding Deputy Director at the Centre for Public Impact (CPI), a not-for-profit foundation funded by The Boston Consulting Group. CPI is dedicated to improving the positive impact of governments and partners around the world. Nate helped launch and direct CPI's program work in North America focused on city innovation, economic mobility, and government legitimacy. Previously, Nate spent over a decade at Deloitte Consulting, helping to launch its Social Impact Strategy practice, where he helped marketplace leaders utilize their core competencies to maximize their positive social impact.
Nate has worked on issues around economic mobility, racial equity, and inclusive entrepreneurship including stints at Obama Foundation helping to stand-up its My Brother's Keeper Alliance initiative focused on empowering boys and young men of color, at Acumen in up-leveling its global portfolio investing efforts, at Endeavor to support its high-impact entrepreneurs, and at TechnoServe to support smallholder farmers and retain their crop value through the supply chain.
He has written for Fortune, Stanford Social Innovation Review, Business Insider, and other publications and has spoken on the latest trends in the social innovation space. He recently co-authored, "Building a Trust-Based Philanthropy To Shift Power Back to Communities," (Stanford Social Innovation Review).
Nate serves on the boards of several non-profits championing efforts that shift power including the International Treatment Preparedness Coalition that fights for universal access to HIV treatment and life-saving medicines and CharityVest that is democratizing philanthropy for everyday givers. A natural bridge builder, Nate is also a fellow at The Royal Society of Arts (RSA), Centre for Public Impact, and NationSwell Council.
Nate holds a Master of Business Administration from the Yale School of Management and a Bachelor of Science in Systems Engineering with high honors from the University of Virginia. He also has a certificate in Executive Leadership Coaching from Georgetown University and is an Associate Certified Coach and member of the International Coaching Federation.