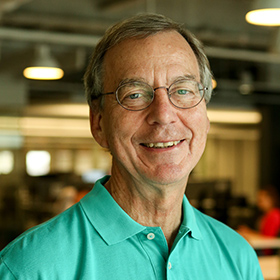 Roger Thompson
Editorial Director, Boston
---
Roger Thompson joined Bridgespan in 2012 as editorial director, working with Bridgespan teams to develop and write manuscripts and helping to plan content for newsletters and other editorial packages.
Prior to joining Bridgespan, Roger worked for nine years as editor of Harvard Business School's alumni magazine, where he directed planning and content development for the publication and its website. He also led the design and launch of a city-guide website for Northern Virginia and served as deputy editor of a monthly small-business magazine based in Washington, D.C. As a cub reporter for an afternoon newspaper in Rockhill, S.C., he won Associated Press writing awards for public service and explanatory journalism.
Roger is a graduate of UNC Chapel Hill with a BA in French and a minor in political science and spent a year abroad at the University of Lyon, France. He also has earned an Ed.M. from Harvard University.