What they are doing:
Eric Schwarz and Ned Rimer founded Citizen Schools in 1995 in Boston to offer young people in low-income communities real-world, hands-on apprenticeships. They believed that if students could engage in such experiences, with a focus on social and emotional learning (SEL), they would be better equipped to succeed in school and in life.
It was a modest beginning, with Schwarz teaching journalism and Rimer teaching first aid after school to 63 students at the Paul A. Dever Elementary School in Boston's Dorchester neighborhood. But the two saw positive results, and with encouragement of school principals at Citizen Schools sites, their organization began to grow. It established other after-school programs in Boston-area schools, engaged community leaders as volunteers, and incorporated a focus on academics as well.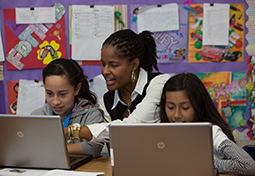 Middle school students participate in Expanded Learning Time through Citizen Schools.
Support from the Edna McConnell Clark Foundation and AmeriCorps helped Citizen Schools expand nationally, beginning in 2002, to Texas, California, New Mexico, New Jersey, and New York. And in 2006, Citizen Schools helped formalize and launch a program called Expanded Learning Time (ELT), whereby the organization would partner with middle schools in low-income communities to add three hours to the school day. During this "second shift" of school time, "Citizen Teachers" lead semester-long apprenticeship projects and also provide academic and SEL support to students with the aim of helping them see their schooling in the bigger picture context of their future college and career success. (Citizen Teachers can be community leaders, small-business owners, or retirees who mentor and "teach from the textbooks of their lives.")
As Citizen Schools celebrates its 20th anniversary in 2015, ELT is now up and running in middle schools in 11 districts across seven states, and more than half of the apprenticeships taught by Citizen Schools focus on science, technology, engineering, or math (STEM) subjects. Each project emphasizes specific behaviors and "21st century skills," such as communication, collaboration, data analysis, advanced literacy, global awareness, problem solving, and innovation. A robotics apprenticeship, led by volunteer Google engineers, for example, emphasizes problem solving (watch a video describing the experience and impact of Google Citizen Teachers). An apprenticeship project with the goal of creating and releasing an anti-bullying public-service announcement video, taught by AOL marketing executives, emphasizes communication and collaboration. (See the 21st century schools rubric here.)
Each apprenticeship culminates in a presentation or performance—called a WOW!—to an audience that includes the student's family and members of the local community. At each WOW!, Citizen Schools' staff use a performance assessment rubric to measure students' growth and mastery of the skills and SEL competencies emphasized in their particular apprenticeship.
The apprenticeships form the core of Citizen Schools' programming, but the organization has also developed and continues to refine a set of ELT practices that promote a positive school climate and reinforce the development of students' individual SEL behaviors and skills. For example, weekly "circle time" and "closing circle"—essentially group meetings for students and ELT leaders—enable students to share their goals and recognize their peers' efforts and progress. Citizen Schools' staff meet regularly with students for individual Goals and Progress conversations that emphasize goal-setting, reflection, and growth mindset.
Students, teachers, and volunteers instructors can also give "value star" awards to students who are notably exhibiting the kinds of behaviors that Citizen Schools encourages, such as teamwork, collaboration, perseverance, joy, pride, and respect. These awards are not simply gold stars, but evidence that students are developing along a set of behavioral indicators that are used to track student growth over time. Citizen Schools, as of this writing, is exploring additional ways to talk about and possibly measure these values and qualities more formally.
In an ideal scenario, the campus director—the individual who leads the "second shift" at each school—is also a member on key school committees, such as the instructional leadership team. The idea is for the campus director to be able to help ELT staff and volunteers align some of the ELT learning objectives with what students are focusing on during regular class time to give them as seamless an experience as possible. Increasingly, Citizen Schools ELT schools include a 30- to 60-minute "overlap block" period where ELT and regular classroom teachers lead a class together.
Similarly, an ideal scenario has the campus director helping ELT and regular classroom teachers get in sync with regard to SEL objectives, and with the policies and procedures they follow regarding SEL and behavior. In some cases, schools also have started adopting some of Citizen Schools' language and specific constructs in relation to SEL, such as the value stars, to align positive school culture and student expectations throughout the entire school day.
Professional Development
Citizen Schools' summer training institute provides instruction, for example, on teaching students how to adopt a growth mindset—believing that their abilities are not fixed but can be developed through dedication and hard work. Understanding how valuable it can be for teachers to share both positive and negative experiences with each other and draw on one another's expertise, Citizen Schools also provides structured opportunities for communication and collaboration among school-day and ELT instructors. On Fridays at most schools, students leave earlier than usual, giving staff an opportunity to participate in a full afternoon of joint professional development. During these sessions, teachers sometimes consult with Citizen Schools staff members on how to incorporate more elements of project-based learning into their own curricula. Likewise, Citizen Schools staff might ask teachers for help understanding how to weave SEL into academic instruction. The two groups might also brainstorm new ways of helping students improve academically or creating educational and career opportunities for the future.
To support the professional development and growth of Citizen Schools' staff, the organization developed a set of core competencies and an aligned instructional rubric. The core competencies include communication, cultural competency, excellence, growth mindset, service mindset, and teamwork. The competencies that adult educators seek to build clearly align with the skills and competencies they seek to promote in students.
Interim findings from an external evaluation of Citizen Schools' ELT partnerships reveal consistently positive and promising student learning gains in English language arts and math, equivalent to approximately two additional months of learning per school year in English-language arts and three additional months of learning in math. The final report of the evaluation will be published in 2016. In addition, Citizen Schools is working on ways to measure student progress in social and emotional development and 21st century skills.
Citizen Schools will pilot, beginning in the 2015–16 school year, a lighter-touch version of its model that will feature only apprenticeships. SEL and 21st century skills will be the primary measures of student success.
What they are learning:
Integrating social and emotional development with important 21st century skills and academic goals has been an important step in strengthening the organization's programming. This integration also has helped Citizen Schools capitalize on increased demand—driven by the Common Core State Standards—for programs that help students prepare for college and careers. School partners and principals are eager, in particular, for STEM-focused apprenticeships, which Citizen Schools is well positioned to develop and deliver.
Integration and collaboration is a two-way process: school-day teachers must understand the expanded learning time approach, and community educators and volunteers must understand the students' academic goals and curricula. School leaders and Citizen Schools staff and volunteers must commit to working with one another, with the students' seamless experience always foremost in mind.
This profile is one of a series of profiles on organizations focused on developing effective learners.