Developing internal staff capabilities can help nonprofits address one of their most expensive and critical needs: succession planning. Cited twice as often as the next concern in surveys of nonprofit leaders, it's an area where organizations often fall short. By building a pipeline of talent, nonprofits can ensure that an existing staff member is waiting in the wings when an inevitable leadership transition comes.
The benefits don't stop there. Having internal talent at the ready also costs less than hiring externally, reduces the operational disruption that comes with turnover, and promotes equity by making the meaning of leadership explicit across the organization. Developing your staff with succession in mind helps ensure that every emerging leader gets access to stretch opportunities, mentors, and training.
To make talent management the cornerstone of your succession planning, organize your approach to development into three important steps.
1. Identify the skills future leaders will need to achieve your organization's strategic goals.
Professional development plans should always align with the strategic needs of the organization and reflect its mission and values – including, in particular, any goals or values related to equity. By looking ahead to the next three to five years, you can identify and agree upon a set of competencies your future leaders will need in order to accomplish the organization's strategic goals.
Who is ready now—and who needs more development—to take on your leadership role? Use the "Create a Succession Plan for Your Leadership Role" template to consider different candidates and their readiness.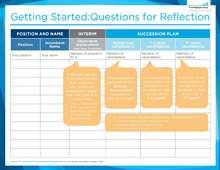 Download the template >>
Is your organization loaded with big picture people who thrive on strategic thinking but is lacking a pipeline of systems-oriented or operationally inclined people? Have you focused so much in the past five years on developing your fundraising capacity that you've come to depend on a small handful of individuals to lead your development and influence efforts? Does your leadership team lack the diversity it needs to genuinely represent the individuals that your organization serves?
Is a looming organizational pivot leaving you wondering just who would be able to step up to lead such a change? These are the kinds of questions you and your senior leadership team should be addressing on a regular basis.
2. Use on-the-job opportunities to build those skills.
CEOs and/or other critical leaders have a responsibility to set their organizations up for success after they hand off the baton to their successors. The time to do this is well in advance of an expected departure. The way to do this is to identify potential replacement candidates, consider the competencies they will need to take the reins, and use talent management in the service of succession, all the while being intentional about equity and developing the broadest possible pool of future leadership talent.
Identifying Competencies
One way in which to develop these competencies equitably — and in a fashion that will both develop your team and strengthen your succession plan — is the 70-20-10 method. According to this model, 70 percent of an employee's development comes from on-the-job activities that allow them to stretch and learn new skills; coaching from more senior employees provides an additional 20 percent, and the final 10 percent of professional development comes from formal trainings, such as classes or webinars. By taking on challenging assignments, receiving support from a mentor, and supplementing that with additional courses, employees can grow their skill sets, mature as leaders, and become stewards of the mission well into the future.
Supervisors should tailor each 70-20-10 plan to the development needs of the employee and the long-term leadership needs of the organizations. For example, a candidate who has developed considerable knowledge and expertise in a functional area of your organization may be an excellent candidate to groom for wider project management or team leadership roles. Another candidate may have distinguished herself as a decisive problem solver but has had little or no experience developing competency as an empathic person or powerful motivator. Great leadership usually requires a mix of hard, skills-based competencies and "softer" personal and interpersonal skills (see chart below), so you should carefully both sets of these in your 70-20-10 mix.
For organizations that include racial equity as a core value, deliberately cultivating a diverse bench of talent should take on a heightened priority. And it's not enough to just identify these potential leaders – rather, development plans for these promising employees should be specifically tailored and equity-conscious – for example, ensuring that these development plans don't implicitly or explicitly reinforce racial or gender biases.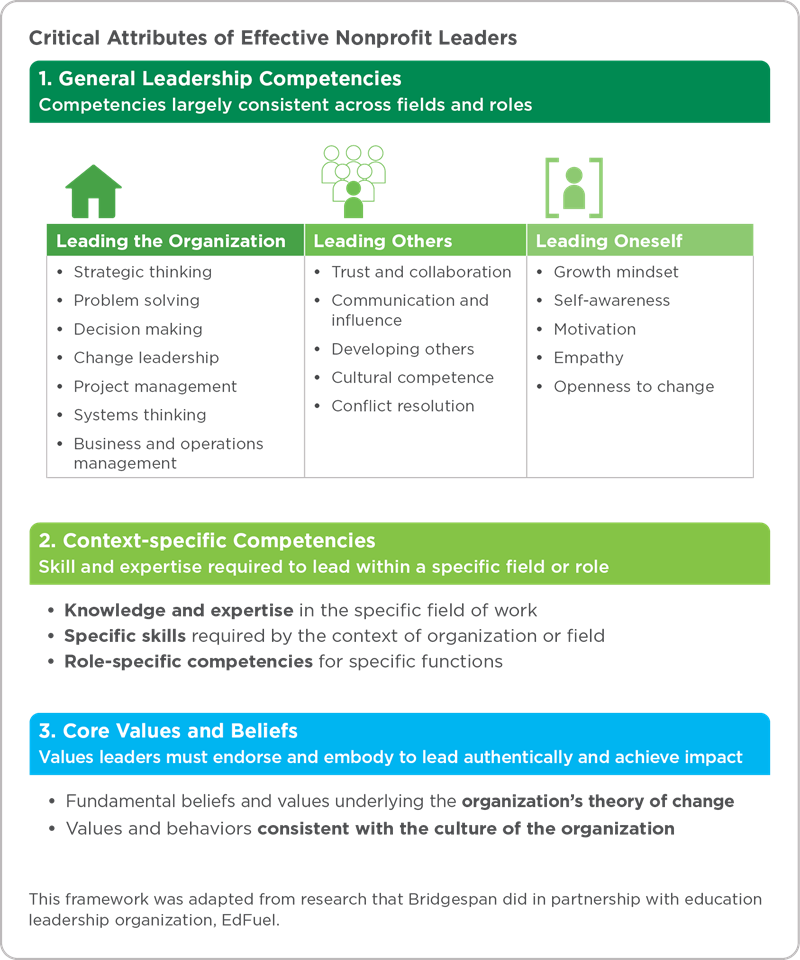 3. Engage the board and funders.
While professional development need not break the bank, there are associated costs. Nonprofit leaders should not be shy about articulating the need for resources to build internal capacity and a talent pipeline of future leaders. This is especially true when doing strategic planning and preparing for a leadership transition. CEOs must have ready answers for funders and boards about the importance of the funds, why a talent pipeline is needed, and why professional development is critical to the future of the organization.

As a corollary, responsible boards and funders regularly ask CEOs about their plans for talent management and then provide the necessary resources. Boards should also make succession planning and talent management an ongoing agenda item with regular updates from senior staff. By earmarking grants, boards and funders can ensure that critical professional development funds do not get cannibalized for program costs.

By providing sufficient time and money, boards and funders can provide more and better internal candidates for leadership positions, eliminate the turnover treadmill, and strengthen the organizations they support. Nonprofits will then be better able to create lasting impact and deliver on their missions today and tomorrow.

Brian Keaney is a freelance journalist, writer, and consultant. He can be reached through his LinkedIn page: www.linkedin.com/in/briankeaney/.

Please fill out the form below to download the template. We use the information we collect to help us improve our content and to inform our funders about the impact of our work. We will never share your personal information with any third party without your permission.

If you'd rather not share your information, you can download a PDF of the template by clicking here.