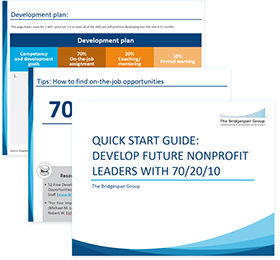 Is your nonprofit organization struggling to retain top talent? Are you committed to investing more in developing your staff, but aren't sure how to take the next step?
The 70/20/10 leadership development method is an affordable but powerful way to develop your direct reports. Based on research by The Center for Creative Leadership, it builds leaders' skills and capabilities with 70 percent on-the-job learning, 20 percent coaching and mentoring, and 10 percent formal training.
With this practical approach to talent development, you and your direct reports will be able to co-create a plan that integrates their development into your organization's everyday activities. Download our free guide using the form below, provided by the Bridgespan Leadership Accelerator. Inside you'll find:
An introduction to the method
Easy-to-follow instructions
Free templates to fill out with your direct reports
Download the Quick Start Guide to 70/20/10
Please fill out the form below to download the guide. We use the information we collect to help us improve our content and to inform our funders about the impact of our work. We will never share your personal information with any third party without your permission.
If you'd rather not share your information, you can download a PDF of the guide by clicking here or if you'd like an editable PowerPoint, please click here.