Great talent makes great organizations. Knowing that, nonprofit leaders are increasingly considering talent development alongside their goals related to diversity, equity, and inclusion.
Why? For one, the nonprofit sector is experiencing a racial leadership gap. Over the last 15 years, the percentage of people of color in nonprofit executive director/CEO roles has remained under 20 percent, according to the Building Movement Project's Race to Lead report.1 The same report notes that it's not for a lack of aspiration: more people of color aspire to lead nonprofits than their white colleagues.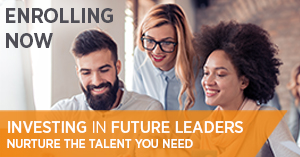 Talent also drives organizational culture. In order to have a culture that supports equity and inclusion, your people need to have the skills and mindsets required to create a culture that centers on equity and fosters a sense of belonging for all staff.
How, then, can leaders provide more opportunities for people of color to become leaders in their organizations? And how can all organizational leaders develop the skills and competencies necessary to foster an inclusive and equity-minded culture?
Develop an intentional approach to talent development
In Bridgespan's work with mission-driven organizations, we're intentionally bringing a racial equity mindset to our approaches. This is particularly relevant in our work and research on nonprofit talent development. If you've named equity as a value and a strategic priority, talent development is an important place to start.
We've found that executive teams who seek to develop leaders of color and create inclusive talent development processes for their organizations employ three key practices:
They agree on what "great leadership" looks like, with equity goals in mind.
They prioritize one to two areas on which each emerging leader can focus.
They craft development opportunities with intention.
Agree on what "great leadership" looks like
As an executive team, it is important to determine the skills, knowledge, and mindsets that will drive development at your organization. Aligning on these competencies creates a common language that will help your senior team become shared stewards of talent and, importantly, makes the process more explicit, mitigating potential biases that might surface.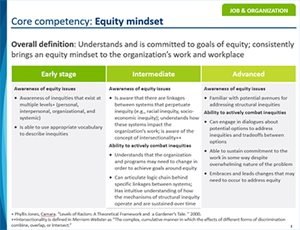 Having a set of competencies (see Sample Scaled Competency rubric) builds a more inclusive development practice, as it makes the pathway to growth more clear for all leaders. That said, the language you use does matter. As the example in the Sample Scaled Competency rubric shows, a competency can signal the importance of equity and inclusion in your organization. And on the flip side, a competency can propagate or even worsen existing inequities. For example, a competency like "professionalism" is ripe for bias and may be coded language (implicit or not) that ultimately favors a white, Western working style.
Prioritize one to two areas for each leader to focus on—and actively mitigate bias
Once your organization has agreed on a set of competencies, each executive team member should use them to understand how emerging leaders demonstrate the competencies and to identify where each should focus on improvement. This starts with an assessment of how direct reports are currently demonstrating each competency. Where are these emerging leaders strong? Where do they need to improve? What are their aspirations?
A caution here is that any assessment can fall prey to bias, especially implicit bias. Implicit biases are stereotypes held about individuals or groups of people, formed unconsciously and usually stemming from the tendency to draw quick conclusions. Any manager conducting an assessment of a direct report may find that these surface. For example, a manager might assess someone more favorably if the direct report she's assessing is similar to her in some way, i.e., similar identity markers like race or gender, or same academic background. Mitigating these biases requires being aware of them and questioning assumptions made.
One technique for mitigating these biases is reviewing assessments as a team. Doing so provides an opportunity for team members to pressure-test one another's assessments, to identify biases, and to actively mitigate them. Such assessments also let teams identify themes related to collective areas of strength or weakness in the organization. These themes then shed light on investments the organization can make to shore up areas for growth.
Craft development opportunities with intention
After identifying competencies to build, the next step is to collaborate with direct reports to craft meaningful opportunities for development. This point about "collaboration" is critical if inclusion matters – development planning shouldn't feel one-sided. Direct reports should be equal partners in crafting development plans, incorporating their aspirations, their self-assessment, and their desires for growth.
Opportunities for development should also extend beyond trainings and conferences. In fact, the Center for Creative Leadership identified that only 10 percent of learning and growth comes from external trainings and resources. Rather, 70 percent comes from on-the-job "stretch" opportunities, and 20 percent comes from coaching and mentoring (ideally related to those stretch opportunities).
Executives might share these draft development plans as a team as well, as sometimes the most powerful development opportunities come from another leader in the organization. For example, the direct report of your team's COO might be looking for opportunities to build skills related to strategic planning and the chief of staff may have an opportunity related to an upcoming board retreat.
In addition, evaluate the activities proposed to ensure they don't (intentionally or otherwise) propagate bias or inequity. A recent Harvard Business Review article ("For Women and Minorities to Get Ahead, Managers Must Assign Work Fairly") cited studies showing women and people of color are more likely to be assigned "office housework," such as taking notes, scheduling meetings, planning the holiday party, versus "glamour work," true stretch opportunities that link to critical skills for development.
Cultivating your organization's talent, and doing so with equity and inclusion in mind, isn't rocket science, but it does take time, intention, and team work. Your leadership team needs to say, "we care about this" and needs to be willing to create habits that support talent development. Doing so will pay dividends in employee engagement, retention, and creating a sense of belonging in your organization.

We would like to acknowledge the contributions of Taunya Black to this framework related to inclusive talent development. Learn more about Taunya and her work at Mosaic and Public Equity Group.
If you'd like more guidance, consider participating in Bridgespan's Investing in Future Leaders program, which combines online lessons with guided team meetings that will help your team develop these habits. Our next cohorts start in March 2019 and September 2019. The deadline for the March cohort is approaching fast. Email us at [email protected] to learn more and apply.