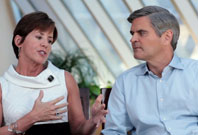 Steve and Jean Case changed the lives of millions with America Online (AOL). With Steve as Co-Founder, Chairman, and CEO of AOL, and Jean as the marketing person, the company did more than any other to introduce Americans to the online world. Today, through their philanthropy, they are continuing their focus on changing the world. And they are doing so in a way that represents a new breed of philanthropy: Rather than wait until retirement, they shifted into philanthropy in their 30s; they are highly involved in their philanthropic endeavors; and their mindset is as innovative in philanthropy as it is in business. You might call it philanthropy 2.0.
As with the entrepreneurial spirit found in the tech startup world, the Cases's philanthropy looks forward to new, more effective ways of accomplishing goals. Here are three lessons they share.
See a complete a complete archive of Jean and Steve Cases's videos.
Lesson 1: Use technology to drive change.
The Cases are true believers in the power of the Internet to change the world. Just take a look at the Case Foundation website, which offers a wealth of social media resources. "We've really been trying to do what we call 'democratize philanthropy' and we've been really grateful that we have technologies—the Internet, social media, etc.—that can let individuals play a role and get really engaged in meaningful ways both...to support great causes they care about," says Jean, who leads the foundation as its CEO. One example she points to is Network for Good (NFG), which offers a suite of services to enable online giving.

[Related: Young Donors of Silicon Valley and Other Forces in Cutting-Edge Philanthropy.]
Today, we take for granted the ease with which we can use the Internet to donate money, but this wasn't always so. Noticing that giving online was not as easy as shopping online, Steve set out to change that reality first through the philanthropy portal helping.org, then subsequently through its next incarnation, NFG, according to the Case Foundation. And in a true show of philanthropic collaboration among tech giants, NFG launched in 2001 through a partnership among the AOL Time Warner Foundation and AOL, Inc., Cisco Systems Foundation and Cisco Systems, Inc., and Yahoo! In a press release from that time, Steve said, "Network for Good represents an unprecedented alliance of industry and nonprofit leaders...we will be able to make giving, volunteering and speaking out on issues as central a part of the Internet as shopping or getting e-mail." NFG is now one of the world's first and largest venues for online giving and has processed over $800 million for more than 80,000 nonprofits.
Lesson 2: Be fearless.
"Failure is a key lesson for anything," says Steve. "AOL actually had several near-disaster experiences before it really grew, and we've seen that on the philanthropic side as well." He points out that both business and philanthropy is iterative, and says that you've got to be willing to make course corrections in service of your goals. In addition, you shouldn't fear risk-taking, since failures can provide powerful lessons. "Frankly we think in the philanthropic sector, people don't focus enough on failure," he says. "Everybody likes to talk about their successes—there's a tendency to kind of sweep the failures under the rug, which is a mistake because everybody could learn from those, including your own organization."
[Related: The New Breed of Philanthropist: Younger, Innovative, and Involved.]
Hoping to shake up the philanthropic sector's cautiousness and propensity toward incremental change, the Cases have created a campaign to symbolize a new approach. The Be Fearless campaign is designed to inspire philanthropists (including themselves), government, and nonprofits to make bold bets, act quickly, experiment, and embrace and learn from failure in order to meet the daunting—and exponentially growing—societal challenges. "Let urgency conquer fear," reads one of the campaign's principles. "Don't overthink and overanalyze. Do."
Lesson 3: Expand your view of how to create social change.
Like many who represent "philanthropy 2.0," the Cases believe that both businesses and nonprofits can and should create social value and that the division between these two sectors is fading as new generations become more experimental about how to create social change. Jean says that unlike a lot of philanthropies, the Case Foundation has focused on enabling giving for all—regardless of cause—and has sought different "platforms"—such as the aforementioned Network for Good as well as Mission Fish (now PayPal Giving Fund) and Facebook Causes—to enable that.

[Related: Three Insights on Impact Investing from eBay Founder Pierre Omidyar.]
Steve's company Revolution, a socially conscious investment firm that focuses on disruptive technologies such as Zipcar, is another example of this new view. Most of his energy on people and ideas that can change the world funnels through his work as CEO of Revolution. "Even though we think of business and philanthropy as separate, we've always believed in businesses that can do well and do good," says Steve. "And that same philosophy we bring to both our Revolution activities and our Case Foundation activities." He points to the Startup America Partnership, of which he is CEO, as a good example of how the Cases are bringing some of the entrepreneurial capabilities together with what they're doing on the foundation, which is also helping to build bridges with government entities.
A new wave of philanthropy
Connection, innovation, new ways of looking at creating social good—the Cases's philanthropy embodies them all. Says Jean: "I spend my time with companies trying to encourage them to think about new ways to give back in their communities, not just through the old way, which is the siloed corporate foundation, but in ways that they run their business every day."
"We actually have the same vision and goal for both [Revolution and the Case Foundation], which is investing in people and ideas that can change the world," says Steve. "Sometimes that's best done through the prism of business, sometimes it's best done through the prism of a nonprofit—but their goal is really the same."
Philanthropy Insights from Jean and Steve Case