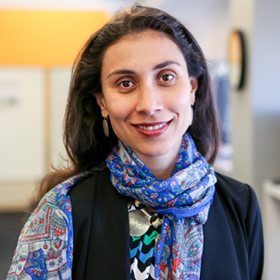 Nidhi Sahni
Partner and Head of US Advisory, New York
---
Nidhi Sahni is a partner and head of Bridgespan's US Advisory Services. She has worked on social issues across South Asia, Southeast Asia, Sub-Saharan Africa, and the United States. Nidhi's clients have included nonprofits such as Educate Girls, Lend A Hand India, BRAC, and Achieving the Dream. Additionally, she has worked with institutional and family global philanthropies such as The Rockefeller Foundation, Ford Foundation, Azim Premji Philanthropic Initiatives, and Goldman Sachs' 10,000 Women Initiative. She has also led Bridgespan's work with donor collaboratives like Co-Impact and The Audacious Project. Her work has primarily focused on foundation and program strategy development, sourcing and due diligence, and change management. As part of her client engagements, Nidhi has designed and led several immersive custom-designed convenings—Impact Labs—to quickly advance the collective understanding of problem spaces and opportunities and uncover novel and valuable solutions and collaborations.

Nidhi has co-authored recent articles such as "Lighting the Way: A Report for Philanthropy on the Power and Promise of Feminist Movements" and "Ahead of Mother's Day, Let's remember and Support Moms Behind Bars," an op-ed for The Chronicle of Philanthropy. Other co-authoring includes "What the U.S. Can Learn from India and Brazil About Preventive Health Care," on HBR.org, "Four Social-Change Results That Innovation Labs Deliver," "Poverty's New Home," and "Is Your Nonprofit Built for Sustained Innovation?" on Stanford Social Innovation Review's website and is featured in the podcast "How to Think About Innovation" on +Acumen: On Leading Change. In November 2021, she joined a conversation for the Skoll Foundation: "Equity, Proximity, and Trust: How Philanthropy Measures Up to Its Aspirations." In July 2022, she was part of Devex World's closing plenary, speaking about the ways in which philanthropy can support grassroots change.

From her early days growing up in and experiencing the challenges of a patriarchal system in India, Nidhi has served in multiple roles with a grassroots feminist organization in India to challenge gender norms in homes, communities, and systems. As a first-generation immigrant, she started her career in the U.S. with a management consulting firm focused on strategy consulting for Fortune 500 companies. She joined Bridgespan in 2010 to marry her experience in consulting with her lifelong engagement on issues of gender equity. She dedicates herself full time to the work of justice and equity.

Nidhi is fluent in Hindi and holds a master's degree in management science and engineering from Stanford University and a bachelor's degree in mathematics with a minor in drama from the University of Texas, Austin.