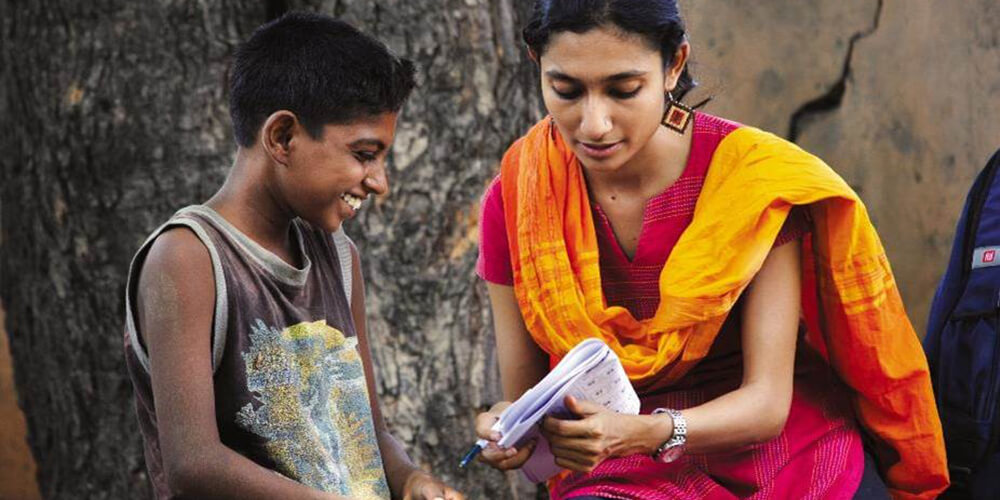 A child is tested using the ASER tool. (Haryana, 2013) (Photo: ASER Centre)
Overview:
The Annual Status of Education Report (ASER) is an annual survey that aims to provide reliable estimates of children's schooling status and basic learning levels in reading and math for every rural district in India. ASER is designed for use in rural communities. Volunteers orally deliver the survey questions in families' homes, to account for all children, regardless of whether they are enrolled in school.
This profile is one in a series of eight that illustrate several unique roles that bold philanthropy can play in surmounting India's many social challenges. Though identified in the Indian context, these roles are so foundational to the global philanthropic ecosystem that they can be thought of as archetypes of bold giving. You can learn more about these archetypes in our report Bold Philanthropy in India: Insights from Eight Social Change Initiatives.
Primary Philanthropist:
The William and Flora Hewlett Foundation
Grant Amount:
INR 53 crores (USD 8 million) over 10 years
Primary Focus:
Education
Archetype:
Inform public policy ASER creates a comprehensive evidence base of learning levels among rural children in India.
Key Partner:
Why Bold?
ASER is the largest citizen-led survey in India and the country's only annual source of data on children's learning outcomes. ASER citizen volunteers reach children in every rural district in India and use a radically simple assessment tool that is administered in households instead of schools. ASER results have informed the national and global discourse on education, shifting the focus from enrollment to learning quality.
Key Learnings:
Use philanthropy to create an evidence base and drive advocacy efforts around an issue
Develop novel and inclusive tools when existing ones do not serve your purpose
Where possible, empower citizens to drive advocacy efforts that maximize impact
Continuously experiment with new approaches to addressing a problem
Download the Full Profile [PDF]