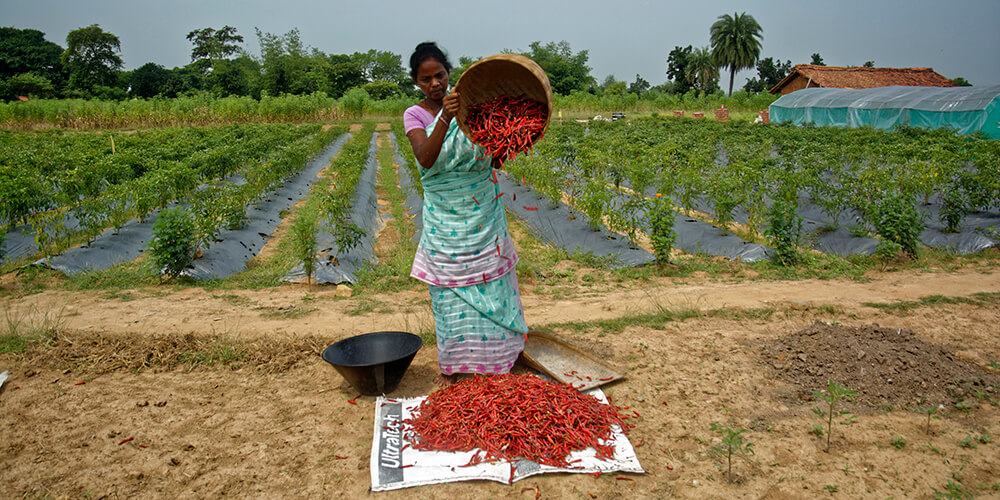 Mulching practices taught through Lakhpati Kisan benefit smallholder farmers in Jharkhand. (Photo: Lakhpati Kisan)
Overview:
Lakhpati Kisan strives to lift rural farmer populations in central India (currently Gujarat, Maharashtra, Odisha, and Jharkhand) irreversibly out of poverty through community-led income enhancement interventions.
This profile is one in a series of eight that illustrate several unique roles that bold philanthropy can play in surmounting India's many social challenges. Though identified in the Indian context, these roles are so foundational to the global philanthropic ecosystem that they can be thought of as archetypes of bold giving. You can learn more about these archetypes in our report Bold Philanthropy in India: Insights from Eight Social Change Initiatives.
Primary Philanthropist:
Tata Trusts
Grant Amount:
INR 120 crores (USD 18.5 million) over five years (Tata Trusts' contribution)
Primary Focus:
Rural livelihoods—tribal communities
Archetype:
Support community-driven development Lakhpati Kisan helps to advance development in economically distressed communities in the Central India Belt by engaging with community members and motivating them to drive change.
Key Partners:
Bharat Rural Livelihoods Foundation
Infosys Foundation
Tata Communications
Why Bold?
Lakhpati Kisan focuses on marginalized tribal communities in high poverty areas (Gujarat, Maharashtra, Odisha, and Jharkhand), using a community-led approach that addresses a wide range of their needs to dramatically improve the incomes of farming families. To date, it has reached approximately 100,000 households across 800 villages and helped create nearly 20,000 Lakhpati Kisans (households with an income of over INR 120,000).
Key Learnings:
Mobilize around a clear, meaningful goal
Collaborate with the broader ecosystem of funders/partners for greater impact
Empower the community to lead
Involve the "doers" in the decision making
Adapt continuously and course correct based on realities on the ground
Download the Full Profile