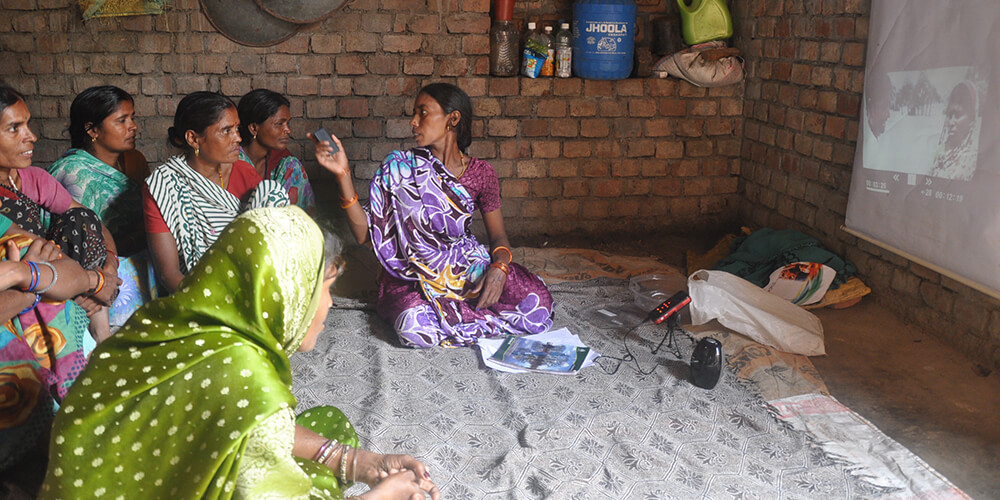 A frontline extension worker in Bihar, India, disseminates a video to a women's self-help group. (Photo: Digital Green)
Overview:
Digital Green is a nonprofit that partners with governments and communities to produce, disseminate, and monitor the impact of short, locally relevant videos that increase the uptake of improved agriculture practices among predominantly female smallholder farmers. The organization operates primarily in India and Ethiopia, while pursuing additional projects in 13 other countries in Africa, Asia, and Latin America.
This profile is one in a series of eight that illustrate several unique roles that bold philanthropy can play in surmounting India's many social challenges. Though identified in the Indian context, these roles are so foundational to the global philanthropic ecosystem that they can be thought of as archetypes of bold giving. You can learn more about these archetypes in our report Bold Philanthropy in India: Insights from Eight Social Change Initiatives.
Primary Philanthropists/Funders:
The Bill & Melinda Gates Foundation (Gates Foundation) (India and Ethiopia); USAID (global)
Grant Amount:
INR 169 crores (USD 25 million) from the Gates Foundation; INR 136 crores (USD 20 million) from USAID
Primary Focus:
Rural Livelihoods—Agriculture
Archetype:
Scale proven solutions Digital Green developed a comprehensive evidence base for its video-based knowledge sharing model, which it leveraged to scale the initiative's reach and impact.
Key Partners:
National Rural Livelihoods Mission and State Rural Livelihoods Missions (India)
Ministry of Agriculture & Livestock Development (Ethiopia)
Why Bold?
Digital Green uses innovative technology and works through government systems to drive higher and more cost-effective adoption of best practices in agriculture among predominantly female smallholder farmers. A comprehensive evidence base of quantitative and qualitative studies serves as a testament to the success of Digital Green's model. To date, the organization has scaled its reach to 1.9 million smallholder farmers globally through its video-based knowledge sharing model and is expanding its focus to include the dissemination of health and nutrition best practices to rural populations.
Key Learnings:
Invest philanthropic capital in piloting innovations and scaling what works
Use technology to help frontline workers deliver and scale programs more effectively
Tailor messaging to maximize engagement and motivate behavior change
Identify and partner with government entities that have wide reach and share similar goals in order to scale
Continuously refine, adapt, and build on a model to accelerate its impact
Download the Full Profile [PDF]