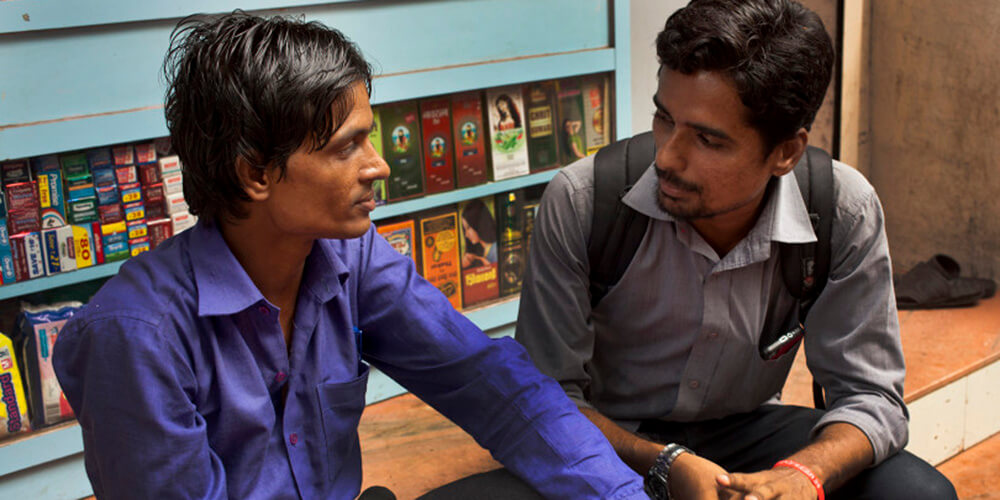 A TB patient receives counseling support from a PPIA partner. (Photo: Bill & Melinda Gates Foundation)
Overview:
Mainstreaming Private Healthcare Systems for Tuberculosis Control seeks to alleviate the growing burden of tuberculosis (TB) in India by integrating the private sector in TB reporting and care. Though the private sector caters to the bulk of patients suspected of having TB, there are challenges with the private sector notifying patients to government authorities and ensuring that patients adhere to standardized care. To address these gaps, the Bill & Melinda Gates Foundation and the government's Revised National Tuberculosis Control Program (RNTCP) developed an initiative to incentivize private healthcare providers to diagnose and treat TB according to standardized guidelines and to notify the government of new cases.

This profile is one in a series of eight that illustrate several unique roles that bold philanthropy can play in surmounting India's many social challenges. Though identified in the Indian context, these roles are so foundational to the global philanthropic ecosystem that they can be thought of as archetypes of bold giving. You can learn more about these archetypes in our report Bold Philanthropy in India: Insights from Eight Social Change Initiatives.
Primary Philanthropists:
The Bill & Melinda Gates Foundation
Grant Amount:
approximately USD 9 million (INR 63 crores)
Primary Focus:
Health (infectious diseases and systems strengthening)
Archetype:
Build innovative solutions The initiative's innovative model aims to standardize TB diagnosis, notification, and care in the private sector through a series of incentive mechanisms, supported by an information and communications technology backbone to monitor and track treatment compliance by TB patients.
Key Partners:
RNTCP
PATH
World Health Partners
Why Bold?
The initiative targets TB control through a novel approach. It aims to integrate private healthcare providers for TB care with public systems to overcome one of the biggest roadblocks to eliminating TB in India: missing patients who contract the disease and seek treatment in the private sector, but are not notified to public TB monitoring systems. By using incentives and leveraging strategic partnerships, the initiative has increased the
number of TB cases that private providers notify to the government, improved patients' compliance with Standardized treatment regimens, and increased TB cure rates in the three cities where the initiative is active.
Key Learnings:
Use philanthropic funding as risk capital to demonstrate potential for impact at scale
Partner with the government at the outset to design for national needs and ensure scale
To change mindsets, deeply understand the actors' needs and incorporate incentives
Leverage partners' capabilities to achieve effective results
Use data to evolve and learn
Download the Full Profile [PDF}